Hidden Treasures
Exhibit Showcases Library's Special Holdings — From Dolls to TV Scripts for 'Star Trek'
November 17, 2009
By Pamela McLaren
Among the many book collections, magazines and videos stored in the Pollak Library are special collections of items that contain the rare and unusual — including ancient world maps, science fiction manuscripts authored by Ray Bradbury and Frank Herbert, TV and movie manuscripts, posters/lobby cards, antique greeting cards and comic books.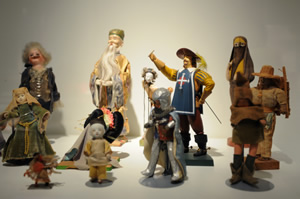 Among the items housed at the Pollak Library is the Fairfax Proudfit Walkup Theater Collection, which includes these costumed dolls. They are among the items now on display in the Library's west Atrium Gallery. The exhibit continues through March. Photo by Kelly Lacefield
All told, the Pollak Library contains approximately 65 research collections that serve students, faculty and staff members, the general public and international scholars.
"What's Hidden in the Library?," a new exhibit that opened this month, showcases examples from the broad range of special collections housed on the library's third floor, including the latest collection donated to the campus by Darryl Curran, emeritus professor of art: hundreds of books of poetry, prints and artists' books collected by Curran and his late wife, Doris, founder of UCLA's poetry reading program.
"All About Doris," a set of scanograms — images created by using a scanner as a camera — by Curran and poetry by invited poets, is part of the show, which runs through March in the west Atrium Gallery.
"We created this exhibit to give honor and exposure to these valued research materials — some of which, like the science-fiction manuscripts and cartography, are among the best known in the country," said Veronica Chiang, director of exhibits for the library.
"We also wanted to honor the Patrons of the Pollak Library, a support group making countless contributions to Special Collections and the library as a whole, as well as the founders and individuals who created the collections, established the Special Collections section of the library and who continue to support this important resource," she added.
Among the collections:
American Trade Bindings
Archives of Popular Culture (including comic books, television scripts)
Roy V. Boswell Collection for the History of Cartography (pre-1901)
Science Fiction Collection
Freedom Center Collection
Kerridge Angling Collection
Local History Collection
Fine Press Printing Collection
The Dwight Strong, George Bernard Shaw and Dylan Thomas collections
James Boyer May/Amsberry Poetry Collection
Fairfax Proudfit Walkup Theater Collection (including dolls, scrapbooks, fashion illustrated plates)
The library's Atrium Gallery is open the same hours as the Pollak Library. Special Collections is open from 1-4 p.m. Mondays and Tuesdays and 9 a.m. to noon Wednesdays through Fridays. For more information, or a special appointment, call 657-278-3444.
Related Stories:
University Archives & Special Collections: A Special Part of Pollak Library
Digitizing Lost Worlds: Bringing the Maps of the Boswell Collection Into the Modern Era