Moving Day
University Police Move into New Modern Facilities
August 25, 2009
By Pamela McLaren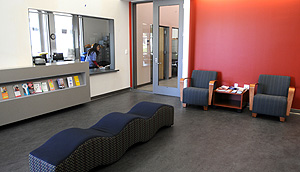 The new lobby of the University Police building is filled with bold colors and clean lines. Photo by Kelly Lacefield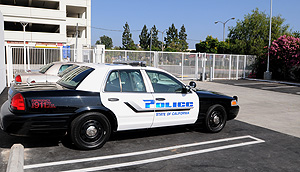 Police cars are now parked in a secure area behind the new building. Photo by Kelly Lacefield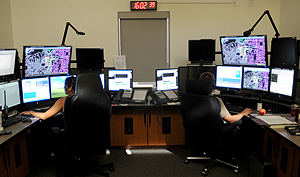 Police dispatchers have room to manuever in their new area in the police building. Photo by Kelly Lacefield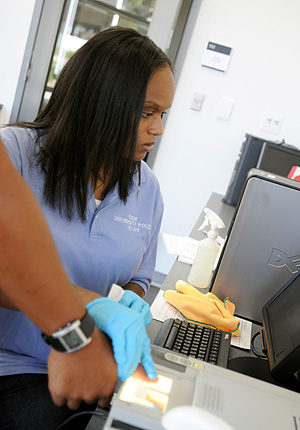 Student employee Tarae Graves uses the police department's electronic fingerprinting equipment in its new facility at the front of the building. Photo by Kelly Lacefield
They were starting to think that the building would never be completed, but University Police officers and staff members carried boxes and other items from their old facilities into the new Monday, Aug. 17.
Quickly they unpacked into the expanded space for administrative offices and service areas now available in the 10,470-square-foot, state-of-the-art building located just south of their old facility.
"It's been a long time in coming but now we have a facility that allows us to do our jobs appropriately and in a safe manner. Everyone here is thrilled," said Chief Judi King as she surveyed what campus police now call home. "This is a project that from the day I got hired has been in the works. Thanks to the commitment to Vice President (Willie) Hagan, it is now a reality."
The new facility has more than double the space of the old building — a temporary building placed on campus in 1960. The new building features locker rooms for both male and female officers, a dispatch center, evidence storage, holding-process area, an armory-safety equipment room and a dedicated emergency operations center — features that are standard in departments across the country but weren't available in the old building.