Campus Leader
Phi Kappa Tau Members Attend Summer Leadership Academy
July 28, 2009
By Andrew Lopez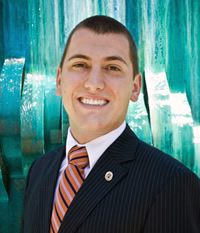 Communications major Andrew Lopez, president of Phi Kappa Tau Gamma Omicron chapter at CSUF.
The Phi Kappa Tau Leadership Academy was one of the best experiences I have had as an active member in this great fraternity organization.
More than 82 chapters across the country were recognized at the July 15-19 event, including my chapter, Gamma Omicron at Cal State Fullerton. There were more than 200 participants at the academy, held at Miami University in Oxford, Ohio.
This experience focused on the main reasons why our fraternity was founded in 1906 at Miami University. The leadership and dedication that the four founders had at the time by standing up for what they believed in as young men in college was motivating.
The hard work that was portrayed at this event by our national executive office, alumni and volunteers helped me understand what it means to "relive the spirit of youth."
Eight members from my chapter, including myself, attended the academy. As a result, eight different individual experiences will come back to our chapter at Cal State Fullerton and help the rest of our members understand what we learned at the national level about our fraternity.
I am proud to have represented Cal State Fullerton. Our chapter received awards for having the most members at the academy, the most distance traveled and the most outstanding recruitment efforts. I have been given many tools to use not only as my last semester as president of our chapter, but to take into the real world after I graduate next May.
I had many favorite memories during the academy, including the secret ritual of what our fraternity stands for, interacting with other brothers from across the nation, and learning what it takes to be an outstanding chapter.
One of my most favorite memories happened during our philanthropy lunch. This is where leaders from other chapters focused on our national philanthropy, Hole in the Wall Camps.
One of our alums, Paul Newman, started Hole in the Wall Camps to create an ultimate experience for children with serious illnesses and life-threatening medical conditions. The camp gives them a chance to spend a week away — from worrying about their health and hospital visits — to just be a kid at camp.
I am proud to be a member of Phi Kappa Tau, and a student at Cal State Fullerton. I will never forget this experience and encourage people to get involved and be student leaders on campus!
Andrew Lopez is a communications major and is considering a career in law. He serves as the chief communications officer for Associated Students Inc. The Fullerton resident joined the 50-member fraternity in fall 2006 and will conclude his yearlong post as president in December. He also plans to get more involved with his fraternity at the national level.