Tops in Campus Service
University Honors Three as Outstanding Staff Members
June 16, 2009
By Pamela McLaren, Russ L. Hudson and Debra Cano Ramos
Brian Barnes of University Police, Serena Cline of New Student Programs and Marcella Gilchrist of Tucker Wildlife Center were the stars of the day June 5 when President Milton A. Gordon announced them as this year's recipients of the Outstanding Staff Award.
The announcement came during the university's annual staff appreciation day, in which the campus recognized years of service, degrees awarded and other achievements of staff members.
"Because of the significant contributions of the staff working in partnership with the faculty and our student affairs professionals, for 51 years California State University, Fullerton, has turned students' dreams of earning a college degree into reality," Gordon said to the assembled audience in Portola Pavilion of the Titan Student Union.
"We are here this morning to honor you and tell you that we know that you are the ones who make a difference in the quality of our university. The dedication and pride each of you displays in your respective positions contributes to the overall excellence of Cal State Fullerton. This was never more evident than this year, when each of you in so many different ways made a positive learning environment for our more than 37,000 students, and in so doing, you made the 2008-09 academic year a memorable one."
The highlight of the day was the announcement of this year's Titan Excellence Award winners, who are selected throughout the year. From that pool of recognized staff members, the three winners of the Outstanding Staff Award were chosen. Each recipient receives a $1,500 check from the Presidents Associates, season tickets to Titan athletics and cultural events, a special parking pass for a year, and a plaque.
Brian Barnes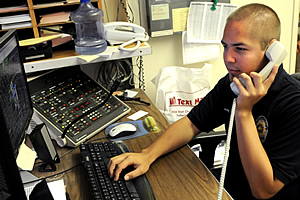 Brian Barnes at work. Photo by Kelly Lacefield
Sitting before a radio console in University Police, Barnes is one of the campus police dispatchers who work around the clock directing officers to injuries, crime scenes and other queries seeking their attention. It is a job that he has done since November 2005 on campus and three previous years at Cal Poly Pomona.
But responding to phone calls seeking assistance is not all that Barnes does.
Through his efforts away from the console, Barnes initiated and followed through to completion the effort to have on-campus 911 cell phone calls routed to campus police, rather than California Highway Patrol or the City of Fullerton. Cal State Fullerton is only the third California State University campus to have such calls routed to University Police.
"Brian also took the initiative to upgrade the department's records management system," said Police Chief Judi King, noting that the effort involved working with campus telecom services and a software vendor to make it possible. "Now information provided by emergency calls are automatically inputted into the records management system, instead of having a dispatcher manually input the information."
Thanks again to his initiative, University Police investigators now can access information from the Department of Justice from their desktop computer instead of having to rely on dispatchers to gather the data.
Barnes also has garnered more than $200,000 in grants for the upgrade of 911 telephone equipment and furniture for the new police station. He volunteered to attend weekly design and construction meetings during the planning and construction of the new police building to make sure that all phases of the project met the requirements of the department.
"Brian is an invaluable member of the University Police Department," Chief King said. "Brian is always willing to image what can be possible and then to put in the hard work to make it happen."
Barnes, a Fullerton resident, is working on his master's degree in public policy administration at Cal State Long Beach. He holds a bachelor's degree in theatre-technical theatre from Cal Poly Pomona.
Serena Cline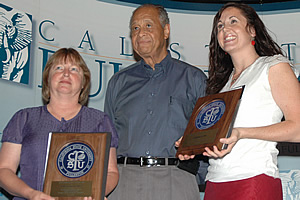 President Milton A. Gordon, center, congratulates two of this year's Outstanding Staff Award recipients Marcella Gilchrist, left, and Serena Cline. Photo by Peggy O'Donnell
What Serena Cline enjoys most about her job is welcoming incoming freshmen to the university and providing them with a smooth transition to college to ensure academic success.
Cline, senior coordinator of New Student Programs, oversees new student orientation, which takes place every summer for first-time freshmen.
"Orientation is a demanding and highly visible program," Cline explained, adding that more than 11,000 new students and their parents were served last summer.
Cline spends many long hours putting on the various programs and tirelessly works on ways to improve them to better serve new students and their parents.
"I try to be innovative and enhance our programs to serve students at a high level," she said.
Larry Martin, associate dean of students for New Student Programs, lauded Cline for her many contributions and initiatives to ensure success and advancement of student affairs-related programs.
"Serena has stepped forward to ensure continued success of our programs, while remaining committed and passionate about supporting student success and leadership development," Martin said. "Her star shines brightly in the division and she is deserving of this honor. I simply cannot imagine accomplishing all that we do without her."
Cline's responsibilities include training, supervising and mentoring students, she also provides leadership for the campus tours program. She also was instrumental in the development of the orientation programs for Spanish-speaking families and serves on a number of campus committees, including the Student Affairs Assessment Committee.
"The committee has identified a number of skills and qualities that Cal State Fullerton students should learn as part of their educational experience here, and I've developed assessment tools to assist our students with their leadership skills," Cline said.
Additionally, Cline redesigned several department publications into one resource to make them more useful, and single-handedly secured more than $10,000 in sponsorships for orientation materials, Martin said.
Cline, a Fullerton resident, joined the university in 2006 and was drawn to Cal State Fullerton because of the opportunity to work with its diverse student population.
"The students are so dynamic and I enjoy serving them and challenging them to grow as individuals," she said. "Cal State Fullerton provides an accessible education, and I have found this to be an excellent place for me to serve students and develop as a professional."
A native of Portland, she graduated from Warner Pacific College in Oregon with a bachelor's degree in social science and history, studied abroad at the University of Oxford during her senior year and following her 2002 graduation, moved to Southern California to pursue a master's degree in education and college student affairs at Azusa Pacific University. She earned her master's degree in 2004.
Marcella Gilchrist
In spite of a wildfire, a flash flood and multiple forced evacuations, Site Manager Marcella Gilchrist has improved facilities and programs in her three years at the university's Tucker Wildlife Sanctuary in Modjeska Canyon.
Day-to-day operations are Gilchrist's responsibility, but she also raises funds, markets programs and activities, conducts tours, coordinates volunteers, facilitates faculty and student research, oversees facility maintenance and upgrades, hauls birdseed to the feeders and helps tend the center's resident tortoise and one-eared opossum.
Last spring during a flash flood, she led her crew in evacuating visiting elementary-school students just before mud overwhelmed the sanctuary's road and parking area, trapping Gilchrist and the staff for hours.
"Marcella is a highly talented individual who has repeatedly demonstrated her creativity by developing educational supplements and exhibits," said Karon Cornell, Tucker director, in her nomination of Gilchrist. "She readily takes the initiative to make improvements throughout the sanctuary. She supervises several student assistants and volunteers, including members of Eagle Scout troops in the region, and she has enhanced Tucker's relationship with neighbors.
"It is important to note," Cornell added, "that Marcella resides on site and has the additional responsibility of protecting CSUF interests after hours and under the most trying circumstances. This was never more evident than during the October 2007 fires that destroyed some of the sanctuary grounds. In addition, she managed to overcome difficulties associated with the sanctuary's exposure to floods and mudslides following a number of rain events since the fires, and has steadily improved sanctuary operations."
In fact, the director added, Tucker is attracting more visiting students, researchers, volunteers and donations than ever before.
Gilchrist was quick to share credit.
"The staff here is what makes it possible to do all we do. They work so hard and we all work together," she said. "The director, Karon Cornell, and the dean of the College of Natural Sciences and Mathematics, Steve Murray, have been nothing but supportive.
"I said when I got this job that it was my dream job," Gilchrist said. "It still is. I'm usually up by 7 a.m. and don't stop until at least 6 p.m., but it's easy when you live here and work with great people, and what a wonderful place to live!"
In presenting the award, President Gordon pointed out that she attended national training on her own time and dime to become a certified nature interpreter. Last fall, she attended a national convention for environmental and educational interpretation, attending many of the more than 100 classes offered.
Gilchrist is an alumna of Cal State Fullerton, having earned her bachelor's in geography with an emphasis in environmental analysis in 2004 and a master's in geography with an emphasis in environmental education two years later.