The Ocean Rocks!
Project Gives High School Teachers, Students Lesson in Marine Science
October 20, 2009
By Debra Cano Ramos
To get high school students excited about earth science and teachers better prepared to teach science, Cal State Fullerton was awarded a $41,500 grant for The Ocean Rocks! a marine and coastal education project.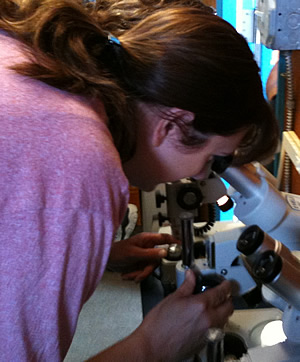 Anaheim High School teachers examine samples of a type of plankton under microscopes during the recent The Ocean Rocks! teacher day at the Ocean Institute.
The Ocean Rocks! is a collaboration between the university, the Ocean Institute and Anaheim Union High School District made possible through funding from the California Coastal Commission's Whale Tail Grants Program.
In November, Anaheim Union High School District students and teachers will visit the Ocean Institute in Dana Point to get an interactive, in-depth lesson in science. More than 1,000 ninth-grade earth science students will participate in laboratory investigations and take a research cruise to collect samples to study.
The Ocean Rocks! focuses on global climate change and the relationship between the atmosphere and the ocean environment, explained Maria Grant, associate professor of secondary education who is spearheading the project.
"Through The Ocean Rocks! we want to educate students and teachers about taking action to improve the health of our marine and coastal environments," Grant said. "We want the students to become scientifically literate and to know and understand issues affecting the ocean."
Participating high school students will investigate seawater chemistry, sea floor geology, sediment cores, microfossils and underwater seismicity alongside other hands-on research activities.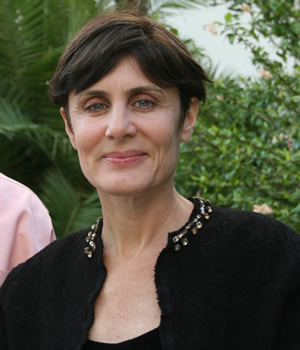 Maria Grant
"An experience like this gives students the opportunity to think about becoming a science teacher, a scientist, or even simply an informed, socially responsible citizen," she added.
Aboard the research vessel, students will retrieve samples to be used for chemical analysis and other testing.
"Students will begin with a research problem, followed by a day of activities that will tie in with solving the problem. It's a whole scientific experience built around critical thinking," Grant said.
In August, school district science teachers spent the day at the Ocean Institute attending planning and professional development sessions.
As part of the project, ninth-grade science curriculum is being developed for Anaheim Union High School District, Grant said.
"This curriculum is aligned with state science content standards and is geared toward students studying earth science, oceanography or environmental science," she added.
Lessons will focus on ocean properties, climate patterns and geologic processes. The curriculum also will include instructional resources for teachers.
Two Cal State Fullerton teacher credential candidates, Beverly Berekian and Kim Deckard, are leading the curriculum development. Berekian earned a master's degree in geology from Cal State Fullerton and Deckard completed the university's multiple subject credential program. Both are currently working towards a single subject science credential and are pursing careers teaching middle school or high school science.
The new science curriculum is expected to be completed by the end of the year and will be available to other secondary science teachers and marine science educators through the Ocean Institute's Web site.