OC Insight
Original TV Programs Produced at Cal State Fullerton for KCET
January 13, 2009
By Valerie Orleans
More than a year has passed since Brent Foster, assistant professor of communications, arrived at Cal State Fullerton to help launch a new public affairs show, "OC Insight," broadcast on KCET Orange (digital channel 28.2).
Using a combination of Cal State Fullerton students, faculty and staff, the show, featuring a panel of experts who discuss a specific topic, has continued to develop over the past months. In the process, Cheryl Perreira has assumed the role of director of the KCET Partnership. Together, Foster and Perreira, along with members of the program development committee, have overseen the production of six episodes in a year's time. The shows that have aired:
"The Cost of Living in Orange County"
"Illegal Immigration"
"The Youth Vote"
"The Real OC"
"The New Face of Retirement"
"Water Issues in Southern California"
Currently, programs on "AIDS in Orange County: 25 Years Later" and "Media Evolution in Orange County" are in production.
"The logistics and infrastructure are now in place," Foster said. "We have a template — a basic structure — in place for the shows, so I don't worry as much about the set design and those sorts of things. However, we are working with students who graduate and so we continually have to train new students to take their places. Also, as we become more comfortable shooting on our own, the technical assistance we receive from KCET is minimized. So, we still need to keep our eye on the ball."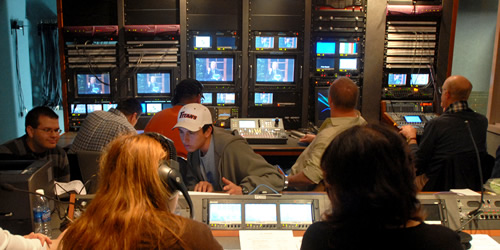 Students and KCET crew members work on producing "OC Insight." Photo by Kelly Lacefield
Perreira hopes to see the show expand and would like the university to capitalize on the opportunity and become part of the Communications curriculum.
"This is such a great opportunity for students," she said. "They are able to work on a show that's aired throughout Orange County and learn the skills they will need to successfully compete for jobs in TV and film. The next step is linking the show to a TV production class to create a pipeline for more students to gain the skills to work on 'OC Insight.' "
In addition to studio time, students are responsible for creating one- to three-minute "packages" that roll between interview segments. Those pieces focus on the topic but allow for fieldwork and the opportunity to highlight programmatic elements of the show.
"Each show is a little different," Foster said. "For the immigration show, we had great field production. On the water show, we had dynamite panelists. We've had shows where guests have dropped out and we had to scramble to find another expert. We had one show where the lights blew out, but at least now we know where the fuse box is."
Perreira added: "It's an ongoing process and we learn something with each new show. I especially like the fact that it's a collaborative process. You don't find too many group projects where students, faculty, staff and industry professionals are all working together. That's the true spirit of a partnership."
To view segments of "OC Insight," visit: http://www.fullerton.edu/advancement/kcet/ocinsight/index.html
RELATED STORY: