Learning Intervention
Faculty, Health Care Professionals From Mexico Complete Obesity Prevention Training Program
February 3, 2009
By Mimi Ko Cruz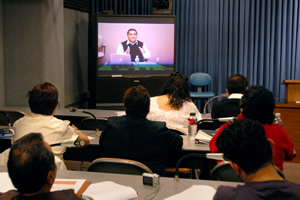 Health care professionals from Tlaxcala, Mexico, take notes in a Cal State Fullerton classroom as they watch Miguel A. Pérez, associate professor of health science at Cal State Fresno, deliver a lecture via video conference. Photo by Kelly Lacefield.
Nine health care professionals from Mexico recently completed a special obesity and diabetes prevention training program, thanks to a partnership between Cal State Fullerton, the Universidad Autónoma de Tlaxcala in Mexico and various U.S. and Mexican health agencies and hospitals.
The partnership is one of 10 that the U.S. Agency for International Development established as part of its Training, Internships, Exchanges and Scholarships Program.
"Similar to last year's cohort, the goal of the nine visiting Tlaxcalan scholars was to develop a culturally relevant diabetes and obesity prevention model that they can then take back to Tlaxcala and hopefully implement at the individual, community, workplace and/or policy level," said Victor M. Rojas Jr., special programs projects manager for student affairs.
The scholars, who received certificates for completing the program, are: nutritionists Maria Elena Rivera Madrigal and Iván Hernández Ramírez; Maria Guadalupe Moctezuma Ayala, a pharmacologist; nurses Maria Oliva Zamora Terova, Maria Adriana García Avila, Clarisa Estella Cita Munive Lopez and Yolanda Merced Lorenza Molina Caucaus; and doctors Antogenes Meneses Córdova and Hugo Jaime Sanchez Sanchez.
They attended lectures on campus, at local hospitals and at community centers Jan. 5 through 16. Professors and health care leaders from throughout the state conducted the lectures and workshops in Spanish, said Christine L. Latham, professor of nursing and the project's director.
Related Story: