Expanding Nursing Program
UnitedHealth Group Donates $2 Million
October 6, 2009
By Mimi Ko Cruz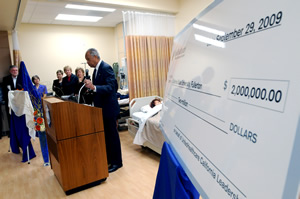 President Milton A. Gordon speaks in the newly named UnitedHealthcare Nursing Skills Lab. Photo by Kelly Lacefield.
Last year, only 46 of 1,300 qualified candidates could be accepted for Cal State Fullerton's newest entry level nursing program.
Thanks to a $2 million grant from UnitedHealth Group, the university will be able to admit an additional 120 nursing students to its entry level pre-licensure nursing program. Students may choose that program at the freshman level or at the post-baccalaureate level.
"This generous grant from UnitedHealth Group will increase the number of nursing students Cal State Fullerton is able to enroll, train, graduate and place in the community over the next five years," President Milton A. Gordon said. "And, that's a good thing, because everything we know about the future suggests we're going to need a lot more nurses."
The U.S. Department of Health and Human Services estimates that by 2020, hospitals nationwide will need nearly 810,000 nurses. That number represents a 29 percent vacancy rate, more than quadrupling today's vacancy rate of 7 percent.
"There is little doubt that the need for well-educated nurses will continue to increase," Gordon said. "Today, funding challenges force nursing schools to turn away 40,285 qualified candidates a year. Donations like UnitedHealth Group's are essential to our program's ongoing operation and expansion. We are most grateful to UnitedHealth Group for their support of our nursing program, and pledge our continuing efforts to educate nurse professionals."
In gratitude, the university's nurse training lab has been renamed the UnitedHealthcare Nursing Skills Lab. At a special event last week in the state-of-the-art lab, university administrators, elected officials, community members, students and faculty members expressed their gratitude for the UnitedHealthcare gift.
The $1.6 million lab, which opened in 2007, features a hospital-like setting and is fitted with nearly $700,000 worth of equipment, including beds, wheelchairs, infant-care stations, patient mannequins, computer programs and audiovisual materials that allow students to practice nursing skills. It also has a lobby, an 11-bed hospital wing with emergency, surgical and pediatric rooms, a patient exam room, a 30-seat classroom, a six-seat study room and a conference room.
Roberta E. Rikli, dean of the College of Health and Human Development, said "the magnitude of the UnitedHealthcare gift cannot be overstated in its value to the community. . . . If each of the 120 new nurses sees only 10 patients per week, this results in an additional 1,200 patients being seen each week. . . or 60,000 per year!"
Historically, more than 80 percent of Cal State Fullerton graduates settle within a 50-mile radius of the university, so UnitedHealth's investment in the university's nursing program will directly impact the region, Gordon said. "So, we at Cal State Fullerton and the citizens of Orange County all have reason to be grateful to UnitedHealth Corporation for their generous partnership in educating today the nurses we will need tomorrow."
Indeed, said Fullerton Mayor and Cal State Fullerton alumnus Don Bankhead (B.A. criminal justice '75, M.P.A. '79), a retired police captain.
"After 32 years in law enforcement, I have a great love for nurses," he said. "I woke up many times to a smiling nurse standing over me. I think so highly of the nursing profession."
Nursing students called the $2 million grant an investment in their future.
"I'm so appreciative to be a student here. My classmates and I continue to get top training and instruction and this support means that I'm closer to my calling and that means a lot to me," said Boudsakhone Sundara-Nunez, a graduate nursing student.
Ephraim Smith, vice president for academic affairs, said the nursing program has been the fastest-growing over the past dozen years.
Because it is an expensive program, UnitedHealth's grant "will certainly help us train many more nurses in the future," he said.
To be exact, the money will help train 150 percent more students, added Pamela Hillman, vice president for university advancement.
Gordon said the university's next goal is to offer a doctorate in nursing practice.
In June, the California Assembly approved AB 867 that authorizes the California State University to offer the degree program. The bill now is being reviewed by a State Senate committee. If passed, the program would focus on the preparation of clinical faculty to teach in postsecondary nursing education programs and train nurses for advanced nursing practice or leadership.