Only as Strong as Its Links
Stronger, "Greener" Structural Steel - But Will the Connectors Hold It Together?
January 13, 2009
By Russ L. Hudson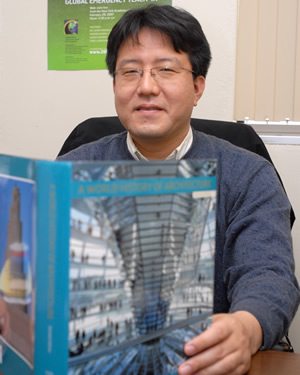 Uksun Kim
Stronger, lighter bridges and buildings may happen soon through the use of a new high-strength steel but only if rivets, bolts or welds can be made strong enough to hold.
Uksun Kim, assistant professor of civil and environmental engineering, is working to solve that problem, funded by a $25,000 grant from the South Korea-based Research Institute of Industrial Science and Technology.
"I'm documenting the properties of the new high-strength steel and looking into how to connect beams and columns made of this steel, said Kim, who noted that the new steel "can hold up to 100,000 pounds per square inch before yielding, making it twice as strong as the structural steel commonly used for buildings and bridges."
Because of its strength, buildings and bridges made of this material would put "less stress on the soil, so the structure needs a smaller 'footprint,' takes less space and fewer resources in its construction.
"That helps the environment, it's 'greener' and it helps the profit line," added Kim. "But this steel also opens the possibility of much larger, heavier structures, such as high-rise buildings and long-span bridges." A few bridges, or parts of them, have been built with this steel in the U.S. and Japan, Kim said, but no large buildings.
Rivets and bolts can be made strong enough for heavier structures by adding carbon, "but higher carbon equivalent makes them more brittle," Kim said, as well as resistant to welding.
"We need to develop bolts and rivets that can take the strain and be safe as well as different welding techniques. But I think I can develop a safe and economical combination of bolting and welding that will work well now and meet all safety requirements. I used to be a researcher with RIST, and my specialty is the design of steel structures and earthquake engineering."
RIST has another motivation to continue the research. South Korea wants to be first to market the high-strength steel to the U.S., the biggest market in the world for structural steel, the engineer said. Development of this type of steel and successful connections also can open the door to Japan.
"Because the two countries have similar structural needs, because they both commonly experience earthquakes, they share a lot of information, including on materials. That can work well for South Korea," added Kim, a Buena Park resident who holds a doctorate in civil engineering from Georgia Institute of Technology, a master's in civil engineering from Michigan State University and a master's in architectural engineering from Yonsei University in South Korea. Kim also earned his bachelor's degree in architectural engineering from Yonsei.