New Voices in Music
March 18-21 Festival Celebrates Contemporary Music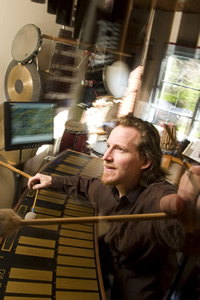 Percussionist Joel Davel
March 17, 2009
Cal State Fullerton's College of the Arts will celebrate new voices in music March 18-21 at the 8th Annual New Music Festival.
The annual celebration brings together world-renowned composers and performers who will collaborate in four public concerts plus a wide range of lectures, panel discussions, master class workshops and an electroacoustic listening room.
This year's festival focus is "The Composer-Performer" with guest artists, including percussionists Paul Dresher and Joel Davel, violinist Karen Bentley, pianist Lisa Moore, composer/flutist and electronics artists Jane Rigler and Anne La Berge, composer Pamela A. Madsen, associate professor of music, working in piano/voice/electronics; band leader and flutist Nicole Mitchell, and performers from the university's Jazz Ensembles and New Music Ensemble.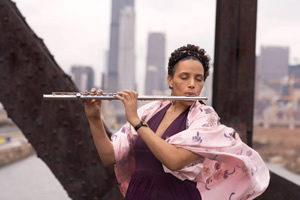 Flutist Nicole Mitchell
Four public concerts are scheduled nightly at 8 p.m. Wednesday through Saturday in the Meng Concert Hall of the Clayes Performing Arts Center.
Further information may be obtained online. Tickets may be obtained at www.fullerton/arts/events or from the Performing Arts Center's box office at 278-3371.