Fulbright Scholar From Ukraine
Nataliya Pratsovyta Hopes to Share Her Experiences With Others
October 27, 2009
By Pamela McLaren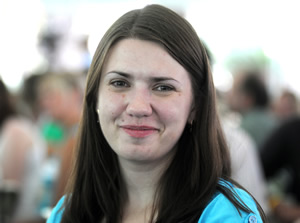 Nataliya D. Kuryliak Pratsovyta
School: Fulbright Scholar at Cal State Fullerton where she is earning a master's degree in English
Hometown: Lviv, Ukraine
Family: husband and three-year-old daughter
Age: 25
Favorite Authors: Ernest Hemingway, Mikhail Bulgakov
Nataliya Kuryliak Pratsovyta's first day on campus was typical — she had a bit of trouble locating the buildings that her classes were being held in.
But Pratsovyta is not a typical college student — she's a Fulbright scholar from Ukraine.
This fall, she, like other graduate students, is busy taking notes and studying for tests. Like many American students, Pratsovyta rents a room in a Fullerton home and walks or rides a bike to campus.
Q. Is this your first time in the United States?
A. No, as a third-year undergraduate student at Ivan Franko Lviv National University, I spent a year at Trinity College in Connecticut under IREX (the International Research & Exchanges Board, an international organization that supports undergraduate and graduate study abroad). While at Trinity, I studied the American education system — I was interested in learning more about it.
The work that I am doing as a Fulbright Scholar at Cal State Fullerton (she will be spending the next year and a half to two years earning a master's degree in English) will be used as part of my doctoral research in English when I return to the Ukraine.
Q. What do you hope to achieve at Cal State Fullerton?
A. The Fulbright Program is an opportunity to gain knowledge in English literature and to explore the topics that are of interest to me. This is also an opportunity to see different methods of teaching. While here, I want to gain knowledge in my field and to see various teaching styles/techniques used by professors in the U.S. I will share the knowledge I gain here with people in Ukraine.
This is an opportunity to enhance my background and my experience that I couldn't pass up.
Q. What are some of the differences between studying here and in the Ukraine?
A. In my country you receive a solid general overview on the subject matter. Here in the U.S., you have an opportunity to study more specific areas in depth — a specific author or style of writing. At home, we don't choose electives, even at the master's level. Once you select your major, you have a set of courses to take. All graduate classes that I am taking now are seminars. In Ukraine, we have two forms of classes: lectures and seminars. It's only in the seminar sections that students question or comment on what the faculty member says.
I like the creativity that I see professors encouraging in their students here. Faculty members also are very accessible and helpful here.
It is fascinating to compare and take advantage of both systems of education.
I'm enjoying my classes very much. Earning a master's degree here — my focus is on American literature — allows me to study very specifically and study in depth specific American authors and writing styles.
Q. What else have you been learning while at Cal State Fullerton?
A. Apart from the academic side, I really appreciate the cultural exchange … communicating and getting to know people of all ages, backgrounds and cultures.
This experience is so worthwhile and exciting. I'm grateful to the Fulbright Graduate Student Exchange Program because it provided this opportunity to learn more about my field and more about the people and culture of America.
Going overseas to study might seem difficult but the experience you gain outweighs the worries. You get so much from the time that you spend overseas and can make contacts and friends that don't end when you return to your home country. You also can share your experience with others.