Tops In Her Field
Milly Heaton Receives Association of Fundraising Professionals Award
August 4, 2009
By Valerie Orleans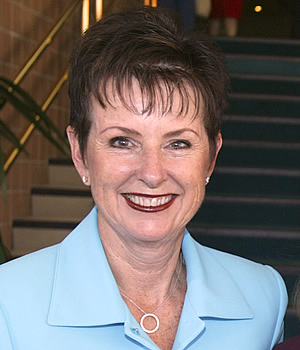 Milly Heaton
Milly Heaton, director of development for the Cal State Fullerton's College of the Arts, was recently honored with the 2009 Outstanding Fundraising Professional Award by the Orange County Chapter of Association of Fundraising Professionals.
During her more than seven years on campus, Heaton has overseen an increase in donations to the college's programs, for a total of $12 million, including the 2008 gift of $5 million for the naming of the university's Performing Arts Center. Trustees of the Joseph A.W. Clayes III Charitable Trust made the donation — the second largest in the university's history.
With Heaton's guidance, more than 200 donors have made contributions totaling about $5.7 million in support of the $48.5 million building, which debuted in January 2006. Heaton also oversees three separate support groups that serve the arts programs at the university.
In addition to her work on behalf of Cal State Fullerton, Heaton is deeply committed to other philanthropic activities, raising $330,000 and tripling the number of volunteers during a three-year stint as volunteer co-chair for Orange County's National Philanthropy Day. In 2007, she was named one of the 25 Most Influential People in North Orange County by North Orange County Magazine, in recognition of her contributions in the area of education and nonprofits.
"It is such an honor to receive this recognition from my peers," said Heaton. "But more importantly, the true honor is to be working in the same arena with philanthropists, donors, volunteers and nonprofit professionals that support thousands of charitable institutions — together making the world a better place.
"I also appreciate the support, encouragement and freedom that is afforded me by Cal State Fullerton and, specifically, Pam Hillman, vice president for university advancement," Heaton said.