Team Honors
Mihaylo Hall Design Wins Architectural Association Award
July 21, 2009
By Pamela McLaren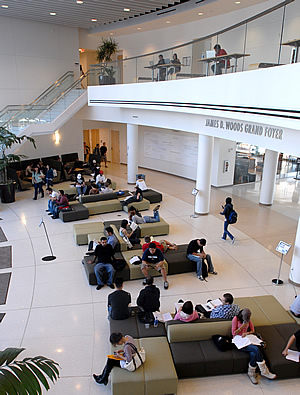 Students find the James D. Woods Grand Foyer, with wide open spacing and multiple seating arrangements, a great place to study, relax and meet with peers. Photo by Kelly Lacefield
The interior design of Steven G. Mihaylo Hall, home of Mihaylo College of Business and Economics, has been honored for "design excellence and consultant teams who have exceeded the expectations" of the interior design profession.
The International Interior Design Association, Southern California chapter, awarded one of its Calibre awards last month for the academic building under the category of SERVE – educational, healthcare, government.
"This is completely a team award," explained Brett Shwery, senior vice president of Hellmuth, Obata + Kassabaum Inc. LA, the architects of the building, who explained that the judging for the Calibre Award is more geared toward the team work involved in the project than just the beauty of the final design.
Before design and construction began, HOK was able to spend a half-day session meeting with approximately 45 representatives of the university and college, including faculty and staff, to come up with a vision for the project, Shwery said. "In that session, we really got the vision of what the building would represent and the philosophy of the college. Seeing that come to a reality was really rewarding for the whole team."
The honored design team included HOK; client Cal State Fullerton; Turner Construction & Turner Logistics, general contractor and procurement; and Workplace Resource and Tangram, furniture dealers.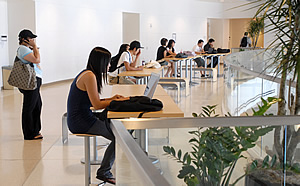 Students utilize the tables, chairs and other seating on the landing that overlooks the Woods Grand Foyer of Mihaylo Hall. Photo by Kelly Lacefield
"Our goal was to design a building to promote collaboration among students, faculty and staff with student activities and services at the heart of the facility," said Joni Norby, associate dean of Mihaylo College of Business and Economics and college liaison on the project. "We are excited by the results of these efforts and this award helps to validate this success."
Michael Smith, director of design and construction, agreed. "I was pleased to not only have HOK Architects design the building, but also have HOK Interiors as a vital part of the team. I think that Mihaylo Hall has one of the best interiors of all our buildings here at Fullerton."
The five-story, 195,000-square-foot building features high-tech classrooms and computer labs, a 250-seat tiered lecture hall and a state-of-the-art interactive, multimedia facility. It also houses student support facilities, administrative and office space, plus the college's centers and institutes.
The building was designed to incorporate elements for energy efficiency, including energy-efficient lighting systems, a reflectant roof system, sun-shading devices, windows with high-performance glazing and an automated building control system. Landscaping for the structure includes native, draught-tolerant plants. Construction began in spring 2006 and was completed in July 2008.
The building's design was recognized as an "Outstanding Design for Work in Progress" in American School & University Magazine's Architectural Portfolio in 2005.
The Southern California chapter of IIDA was established in 1995 and has more than 800 members, including professional designers and other industry members and students.