Eyes and Ears
Community Service Officers Assist and Support University Police
November 2, 2009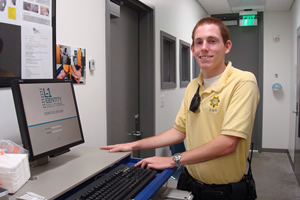 Michael Rico
Age: 20
Hometown: San Jose
Class/Major: Junior studying criminal justice
Pastimes: Motorcycle riding, swimming, camping, hiking, backpacking, rock climbing, cliff diving, canoeing, mountain biking, fishing, or anything that involves the outdoors.
They are the ones who unlock classes and offices, provide escort to vehicles after evening classes and lead ambulances and fire engines on to campus when responding to medical aid or emergency calls.
"They" are the university's Community Service Officers, or CSOs, a cadre of 25 students who support the University Police Department by observing and reporting suspicious activities or incidents and assisting members of the campus community.
The Community Service Officer Program was founded on campus in March 1989 to perform basic public services to the campus community. Since the program's inception, hundreds of CSUF students have worked in the program, graduating and entering fields from law enforcement to accounting, advertising, health care, teaching and the arts.
Recently a young student on crutches walking to campus was given a ride by a CSO. Coming to his aid? Michael Rico, a junior criminal justice major, who hired on as a CSO in his first semester on campus, two and a half years ago.
"Its sort of my stepping stone to becoming a police officer," said Rico, explaining that he believes the hands-on experience of working with University Police will give him an edge when interviewing for a job after graduation. "It's also my chance to give back to the campus where I've learned and gotten so much from."
Q: What type of training did you receive when you were hired as a community service officer?
A: During training, we have a field training officer who shows us everything we need to know, including defensive driver training, police codes, how to get around campus and the routines that we need to follow when helping members of the campus community. It generally takes about three months to complete.
Although its not required, I've also recently been certified as an emergency medical technician.
Q: What's a typical day? What types of calls do you respond to?
A: University Police call us their eyes and ears on the campus because one of our main duties is to assist the officers with monitoring and patrolling the campus. Since we are students, as well as CSOs, we spend a lot of our time on campus. CSOs react and handle every situation to the best of our abilities and contact officers as needed.
If we see any unusual activity on campus, we notify our dispatcher and officers of the situation. Our shift usually begins with a briefing where patrol informs us about what has recently happened on campus and the types of events that will be happening during our workday. Once on duty, we will monitor the campus as well as respond to many different calls.
One of our duties while on patrol is locking and unlocking doors across campus. Sometimes we'll get calls from an individual who has locked their keys in their office or forgotten their keys that day. Once we've confirmed that this individual has a right to be in that office, we'll open the door for them.
Many of our calls are from people who can't locate their vehicles or believe that they have been stolen. We will drive them around to look for the vehicle in case they have not remembered accurately where they were parked or if we do determine that the car has been stolen, we call an officer to take the report.
During situations in which an individual needs medical aid, we are responsible for escorting paramedics and the responding ambulance to the victim in the most efficient route possible. In the event that a CSO witnesses a medical emergency arise, they will immediately notify dispatch and officers so medical units and officers can respond as quickly as possible. The CSO will then stay with the individual, until police or medical personnel relieve them.
Q: Can you give an example of an unusual incident?
A: I was working loss prevention in Titan Shops with another community service officer. We had received a photo from the detectives of a suspect in a theft of the bookstore. While reviewing the security tapes, and monitoring the live video feed, we spotted the subject from the photo grabbing some books and then heading over to the Starbucks in the bookstore.
My partner and I followed the suspect as he walked out of the store, contacting officers by radio. We were keeping the suspect in visual contact to keep officers informed of where we were, when the suspect looked back and spotted us. He took off running with us following, ending up outside the Titan Student Union when he got too winded to continue. Within a few moments our officers arrived on scene and the suspect was arrested with stolen property in his possession.
Q: What do you enjoy most about this job?
A: I enjoy the experiences and knowledge I am able to gain from working close to our police officers, and witnessing how they respond in real life situations.
Q: What is your ultimate career goal?
A: I would like to become a police officer. Once I have graduated, I may consider paying my way through paramedic school if I am unable to find a police department who is willing to sponsor my way through a police academy. Perhaps later in my career I could become a California Highway Patrol helicopter pilot — I understand that if they have paramedic training, they can respond to and transport patients during emergency medical situations. I think it would be a rewarding job to serve in any of these roles.