Grad Gets Great Opportunity
Leo Otero Teaches English in Philadelphia High School as Part of Teach for America
October 6, 2009
By Debra Cano Ramos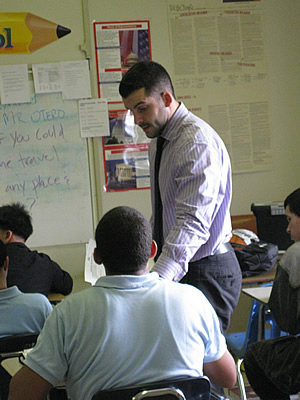 Leo Otero began teaching this fall at Charles Carroll High School in Philadelphia.
Leo Otero is one of eight Cal State Fullerton graduates selected to teach in underserved public schools across the country as part of Teach For America. Otero is teaching English and journalism at Charles Carroll High School in northern Philadelphia. During the summer, he taught at Martin Luther King High, also in Philadelphia. At Charles Carroll High, Otero teaches freshman and sophomore English and one journalism class. Otero, of Irvine, earned a bachelor's degree in political science in 2009 and is working on a master's degree in urban education at the University of Pennsylvania. As a Cal State Fullerton student, he served as Associated Students Inc.'s chief governmental officer, chair of Lobby Corps and chair of the Environmental Advocacy Committee and was a member of Pi Sigma Alpha. Otero is considering going to law school with a career goal to work on political campaigns, and eventually run for public office.
Q: Why did you join Teach for America?
I joined because I felt it was a good opportunity, early in life, to do something great. I wanted to join this social justice movement that would close the achievement gap one student at a time. Education is America's greatest equalizer, and I am a product of this ideal. I knew I wanted to teach, but I knew I did not want to make a career out of it. So Teach for America was a perfect match.
Q: What's it like at Charles Carroll High?
The school is roughly 110 years old and was built in the late 1890s. The students are relatively well behaved and very diverse. My classes are roughly 25 percent African-American, 25 percent Latino and 50 percent Caucasian. I really love the diverse atmosphere here at Carroll High School. Unfortunately, the literacy rate among the students is not good, and the effects of not being able to read at grade level adds a lot of stress on the students and teachers. This is a common problem in urban schools. Charles Carroll High School, however, is better than most schools in the area.
Q: Any anecdotes about your experience so far?
Teaching is seriously an exhausting job! You have to always remember to smile!
Q: What does it mean to you to teach?
Teaching means being patient, loving and sacrificing a lot. Teachers are underpaid, overworked and underrespected. It is incredible the amount of hours I put in week to week in order to be prepared to teach my students.
Q: What do you hope to get out of the experience?
I hope that I leave Teach for America knowing that I made a difference in the lives of my students. I hope to leave Teach for America a stronger orator and person. Lastly, I hope to leave Teach for America with some inside knowledge on what is wrong with the education system here in America. I want to be able to take this inside knowledge and try to fix it through the political system.