Leadership Institute Leader
Student Leezel Ramos Serves as Director of Coordinating Committee
July 21, 2009
By Debra Cano Ramos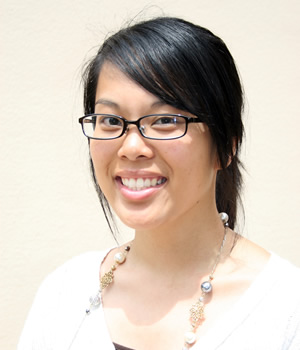 Leezel Ramos
Major: Speech Communication
Residence: Fullerton
Leadership roles: fellow, National Association of Student Personnel Administrators Undergraduate Fellows Program; volunteer service coordinator for A.S.E.S. (After School Education and Safety), a program of the Center for Internships & Community Engagement; former vice president of leadership, Alpha Phi Omega National Service Fraternity, Omega Sigma Chapter at Cal State Fullerton and also one of the students instrumental in reviving the chapter on campus; former chairperson of the Southern California Pilipino American Student Alliance
Favorite quote: "Think Radically. Act Rationally. Live Passionately." — Jerry Torne
Two years ago, senior Leezel Ramos became involved in Cal State Fullerton's Student Leadership Institute to develop leadership skills. Today, she is ready to lead.
Ramos is stepping into the role of director of the institute's student-led coordinating committee for the 2009-10 academic year.
The 10-member committee, comprised of students who completed the program, assists with marketing efforts, plans networking and recognition events, makes presentations and gets involved with evaluation and assessment.
More than 6,000 Cal State Fullerton students have completed the leadership program since the institute was founded on campus 18 years ago.
Ramos, like others who have completed the free certificate program, believes that leadership skills are instrumental in career and everyday life.
"I admire the idea of challenging one's self and saw the Student Leadership Institute as an avenue to continue my commitment to personal growth," said Ramos, a speech communication major with a concentration in intercultural and organizational communication.
"Because I witnessed success and better readiness of Student Leadership Institute alumni for the great endeavors they pursued, I knew that the program was something I wanted to be a part of."
Ramos plans to pursue a master's in college counseling and/or student affairs after earning her undergraduate degree next May.
Here are her thoughts on the leadership program:
Q. What do students learn in the program?
The program offers eight certificate tracks, and the greatest benefit is that there is a track for everyone. Students choose a track that interests them or has ties to their major or career goal. The different tracks meet individual needs whether it's wanting to save the world with the social justice activism, learning how to lead nonprofit organizations, helping peers with tutoring, taking on the real-world career issues or understanding and appreciating diversity. Students learn about different leadership theories and techniques, communication skills, and take active roles in the community and on campus.
Q: As leader of the coordinating committee, what are your goals for the institute?
In addition to continuing to increase awareness and participant numbers in the program, I would like to refresh the program by making it more interactive and engaging for students. I hope to infuse more team building exercises and networking sessions. I'm more than positive that with our amazing coordinating team, we'll create an exciting and meaningful SLI experience for all.
Q. What have you enjoyed most about being involved in the program?
The biggest highlight has been meeting individuals that I wouldn't have known otherwise. It's a great feeling to be surrounded by people who share a sense of passion, a drive to do something, and who want to learn along the way.
Q. How will serving as director help you in your future career?
I'm pursuing a career in student affairs and I hope to be involved with community service, leadership and/or multicultural programming, so being a part of the Student Leadership Institute is something I most definitely want to continue investing in. I've been fortunate enough to have mentors in my life who believed in me and showed me that I am capable of achieving my own successes. I want to be that kind of person for others — to challenge and cultivate inquisitive minds. Now, as part of the coordinating committee, I'll have the opportunity to constantly tap into students' potential, encourage them, and provide the knowledge and tools they'll need to be successful leaders.
Q. What makes an effective leader?
An effective leader creates a clear vision and produces an interactive and supportive experience for his or her team that reflects the Relational Leadership Model. This model, which I prefer, allows others to be empowered, to feel that their work is purposeful and organizationally process-oriented, and it is inclusive and ethical. Skills to manage people can be learned, but captivating them is key.