Salud!
New Program Delivers Healthy Living Lessons to Latino Families
March 24, 2009
By Mimi Ko Cruz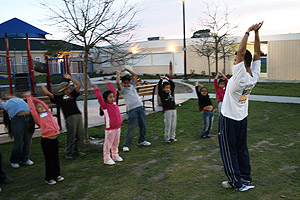 Hector Orellana, right, leads stretching exercises as part of a new obesity prevention project. Photo by Mimi Ko Cruz
More than two dozen families in south central Fullerton are taking part in Kick Start Your Day, a new Cal State Fullerton program focused on giving healthy living lessons to members of the predominantly Latino area.
The program, launched this month in the Richman Park neighborhood, is being directed by Cal State Fullerton's Center for the Promotion of Healthy Lifestyles and Obesity Prevention.
"Previous research has suggested that low glycemic foods may be beneficial in controlling weight and addressing obesity and that a single intervention is not likely to lead to large reductions in the prevalence of obesity," said Shari G. McMahan, chair and professor of health science and the center's director. "There is a need for culturally appropriate programs that address obesity prevention, weight management, nutrition education, individual dietary counseling and lifelong healthful eating habits."
Kick Start Your Day is a six-week community trial study implementing and testing the effectiveness of a culturally appropriate community education intervention to incorporate lessons on healthy breakfasts and physical activity, McMahan said.
Participating are 29 families, including 45 children, ages 5 through 12. Volunteers — Cal State Fullerton undergrads and graduate students — are conducting the lessons and activities in English and Spanish.
"Our plan is to develop a program that will teach families the importance of eating nutrient-dense foods, avoiding nutrient-lacking, high-calorie, high-glycemic foods and exercising," McMahan said.
The program's objectives are to:
educate families on the importance of a healthy start (eating and exercise) in the morning;
provide nutritious breakfast foods to families participating in the program;
teach parents what a healthy portion size is and how to read and evaluate nutrition labels;
create and distribute a bilingual (English and Spanish) educational booklet geared to the children and other promotional materials on the importance of a healthy breakfast and being physically active;
engage children in brief exercise sessions to demonstrate and teach fun and easy activities; and
conduct a pre- and post-program survey to evaluate the outcomes of the educational sessions.
Kick Start features a "train the trainer" approach, McMahan said. It is held Tuesday evenings for an hour.
There is a 30-minute nutrition lesson focused on portion control, healthy fats, label-reading and the glycemic index and a 30-minute physical activity that consists of stretching, jumping and other aerobic and anaerobic movements, based on a soccer theme.
"Each week, we introduce a physical activity and explain the importance of exercise to the children," said Hector Orellana, a student in the master of public health program.
Two other MPH students — Rehanna Mohammad and Adrianna Bautista — are delivering the nutrition education as part of their graduate projects.
"The families are making changes in their nutrition decisions and there are a couple of parents who have chidren with high cholesterol levels and diabetes who are finding this program very helpful," Mohammad said. "It's very rewarding for all of us."
Mohammad's part of the project focuses on the nutrition training and implementation of the program and Bautista's focuses on capturing the educational lessons by documenting them in a humorous comic book that will be distributed to the families.
Kick Start is the latest in various Cal State Fullerton community projects aimed at helping children and families in south central Fullerton. Others include the Community Math Education Center and about a dozen other free services, including civics classes, English lessons and medical care.