Prepared for the Worst, Hoping for the Best
Emergency Management Coordinator Keeps Focus on Being Ready
June 9, 2009
By Pamela McLaren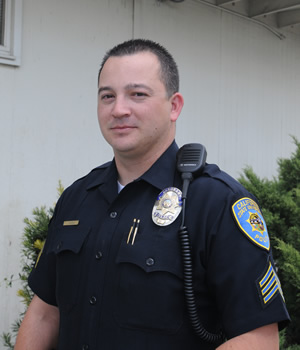 Justin Hendee
Justin Hendee joined Cal State Fullerton in 1999 and served seven of those years as a police officer patrolling the campus and working to keep the campus safe. Today, as the university's emergency management coordinator, his role is similar but the focus is to make sure that the campus is prepared for the worst of emergency crises while hoping that that day never comes.
"My main duties are to ensure that the campus is prepared to respond and recover from any emergency situation that would impact the day to day operations of the campus," said Hendee. "I also make sure that we are in compliance state and federal emergency guidelines, regulations and laws."
In Southern California, the most obvious potential crisis is a massive earthquake (just think the 4.7 quake May 18) but the region has been reminded that fires (Santa Barbara May 13, Brea-Yorba Linda - November 2008) also can cause widespread damage as well.
Q. What types of emergencies does the university prepare for? And what types of things is the university doing to deal with an emergency?
The university is prepared to respond to a variety of emergency situations such as, earthquakes, floods, dam failures, terrorism, civil unrest, gross acts of violence on campus (active shooters) and hazardous materials release. As part of that preparation, the campus has an emergency operations plan that features what the campus response would be to these and other emergencies.
Of course all situations are unique and the personnel in the field and those assigned to the Emergency Operations Center have the ability to deviate from the plan if it is in the best interest of the university. That's why the exercise of our plans through various drills are so important.
I know that drills cause a disruption to everyone's work day and that now more than ever campus employees are working hard as the budget crunch is effecting all departments, but the reality of the situation is that in an emergency, personal preparedness is your best chance of survival.
Q. What is the campus emergency plan and why is it important?
Emergency operations plans are important because they give the campus the framework to build a response to virtually any emergency situation. Not that we could not respond without them, but the response would be hampered by numerous unnecessary delays. Just take a look at the situation caused when Hurricane Katrina flooded New Orleans — at some level of government no plan was in place to deal with an issue of that magnitude and it caused unnecessary human suffering.
Q. Why do have evacuation drills?
Evacuation drills are one way the campus can not only test and exercise our emergency operations plan, but also make sure that members of the campus community know what their roles and responsibilities are during an emergency.
It also gives our emergency management team a chance to work together. Our emergency management team is comprised of members from many campus departments and disciplines, so it is important that they get a chance to collaborate and problem solve issues during a drill situation — so that they are ready for an actual event. We also get a lot of information on issues with our life safety systems, and mass notification systems that may need attention to work at that their best during a time of emergency.
Q. What should members of the campus community do to be prepared for an emergency?
Everyone should have a personal emergency plan. Among the things we all need to think about is our food, water, necessary medications, contact/communication plan for family members, flashlight, radio, etc.
I would suggest having a small stockpile of emergency supplies for work and one for home. There are even pre-packaged kits that can be purchased at places such as COSTCO or through various Internet sites. Another good thing is to talk to your family about what everyone's responsibilities are in the event of an emergency and practice them occasionally.
I also would recommend an occasional visit to websites like the Federal Emergency Management Agency or the California Emergency Management Agency— they have very good information on how to improve personal emergency preparedness.
Q. What is the single most important thing to remember in an emergency?
The single most important thing to remember in an emergency is to remain calm and have a plan. In many emergency situations people have survived against incredible odds because they remained calm and implemented a thought out plan.
Q. What else can members of the campus community do?
All of us should take advantage of the training programs we have on campus — not only do we have first aid and CPR classes, we now offer CERT — Community Emergency Response Team training. These individuals may be called upon to provide assistance to the campus first responders during an emergency.
The campus recently conducted its first training session of CERT — 27 people from various departments and divisions on campus completed the training, which included topics like emergency response, first aid, fire suppression, first aid and light search and rescue. The goal is to have one more training session over the summer and another during the fall semester.
The next program begins in July. For more information or to register, call Justin Hendee at 278-3572 or go to emergencymanagement@fullerton.edu.
For more information, go to the campus emergency preparednesss website at http://www.fullerton.edu/emergencypreparedness. The site carries information on the campus emergency notification system, shelter-in place guidelines, personal preparedness and where to go for additional information.
Related Stories:
Emergency Preparedness: After the (Northridge) Disaster
Why Disaster Planning? It's All About Preparation