Jumpstart to Kindergarten
Program Pairs Cal State Fullerton Students with Preschoolers
March 24, 2009
By Debra Cano Ramos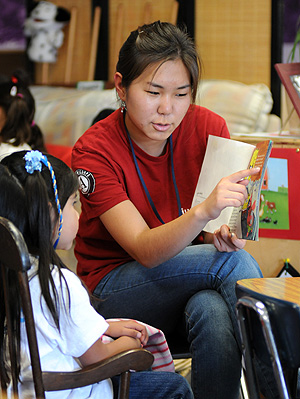 CSUF Jumpstart volunteer Esther Lee reads to 4-year-old Melenie. Photo by Kelly Lacefield
Four-year-old Melenie listened intently as Cal State Fullerton freshman Esther Lee read a book about the animated cartoon character SpongeBob SquarePants.
As Lee enthusiastically told the story, she explained how the pictures and words are connected, stirring the girl's curiosity. She then asked the preschooler questions about the book's content.
"What I was trying to accomplish was for Melanie to be engaged in the story," Lee said. "I want her to enjoy being read to and I want to encourage her and the other kids in the program, to read on a daily basis."
Lee is among 45 Cal State Fullerton students who volunteer with the university's Jumpstart program, where they are paired with pre-kindergarten children and assist them in building language, literacy and social development skills.
For Lee, teaching the Jumpstart children to read and to become familiar with the function of books, is rewarding.
"I never knew that I had a passion for teaching and working with preschool-age children. It turns out that God had given me a special gift in teaching," said Lee, who started volunteering with the Jumpstart program last fall and now is considering a career in teaching because of the experience.
In 2003, the university started the early childhood program, which focuses on enhancing educational opportunities for children from low-income backgrounds. Last year, students provided more than 16,000 hours of service to young children in the local community.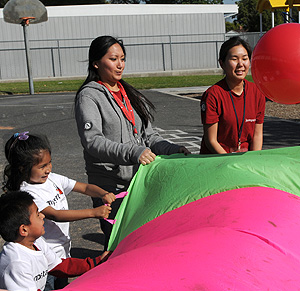 Brandon and Jessica, both 4, enjoy the parachute game with CSUF Jumpstart volunteers Jessica Angeles and Esther Lee, right. Photo by Kelly Lacefield
Jumpstart is an AmeriCorps program that fosters civic engagement through local service and volunteering. To date, Cal State Fullerton has received about $400,000 in funding, primarily through AmeriCorps.
The university offers Jumpstart at Richman Elementary School in Fullerton and at two Head Start centers in Fullerton and Placentia.
"Jumpstart's goal is to ensure that preschool-age children are prepared to succeed in kindergarten — and beyond," said Jo'ie Taylor, Cal State Fullerton's Jumpstart program coordinator.
The students, called Corps members, serve 300 or 450 volunteer hours and are enrolled in a service-learning course tied to their child and adolescent studies, Taylor said. Students receive training before they go into the classroom, and when they've completed the two-semester commitment, they earn an educational stipend of up to $1,250 for their community service.
Besides reading, the college students perform a range of learning activities with the children, such as outdoor play to build gross motor skills, classroom games and songs to increase language and critical-thinking skills and crafts to enhance creativity. The university's students also have the opportunity to develop their own lesson plans, and in some cases, lead the class as early childhood educators.
"The most valuable thing I get out of this volunteering program is the experience and sheer enjoyment of being a vital part of the children's lives," said Lee, who works with Richman Elementary students. "I definitely want to give our partner children the best education they can get. The best way is to provide them with activities for them to exercise their language and learning skills to expand their knowledge."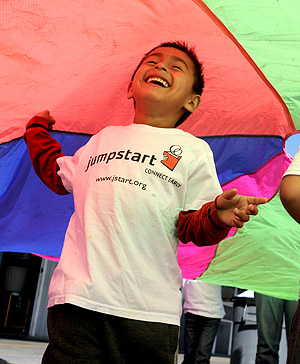 Four-year-old Brandon has fun playing the parachute game during a recent CSUF Jumpstart session at Richman Elementary School in Fullerton. Photo by Kelly Lacefield
Jessica Angeles, a child and adolescent studies major who plans to earn her bachelor's degree in May, has been a Jumpstart volunteer the last two years. Angeles, a student leader of the program at Richman Elementary, called the experience valuable and helpful to her career goal of becoming a social worker.
"Jumpstart has given me hands-on experience of teaching in the classroom," said Angeles, who plans to pursue a master's degree in social work. "Just being able to work with the children, and knowing that you made a difference in their lives and are helping them to not only prepare for kindergarten, but to succeed in life, has made me realize how important it is to give back to my community."
Jumpstart is not only helping to change lives of young children — it is also filling a gap in preparing them for the educational challenges ahead, community partners say.
"Through Jumpstart, the children are provided with one-on-one attention. The children bond with the Jumpstart volunteers and they really look forward to coming," said Linda Jimenez-Martinez, supervisor of child development services for Fullerton School District.
Jimenez-Martinez, who in 2003 earned her bachelor's degree in human services from Cal State Fullerton, added that she's seen positive behavior changes in some children because of the caring relationships and interactions they have with the Jumpstart volunteers.
"Jumpstart is definitely helping to improve their readiness for elementary school by providing many opportunities to explore and develop an interest in literacy," she said.
Contact JumpStart For more information about the program and to volunteer.