The Hardest Is the Easiest
Goodhue-McWilliams Winner Balances Education and Service
May 19, 2009
By Russ L. Hudson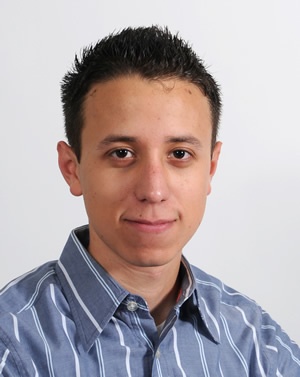 Jose Soza
Jose Soza will graduate this month from Cal State Fullerton with a bachelor's degree in biological science, but he'll have something else in his hand besides his diploma: the coveted Kenneth L. Goodhue-McWilliams Award for Outstanding Service in the Health Professions.
The honor is named for the emeritus professor of biological science who sponsors the annual award, which is among the top honors bestowed during commencement. Soza will be recognized during the university's Honors Convocation May 22.
"I didn't expect this, it was a great surprise," said Soza, a resident of Downey. "I am extremely grateful and thankful for having been chosen for this prestigious award.
"CSUF is an amazing school. During my time here, I have felt nothing but support from the staff and faculty in pursuing whatever came my way," a clearly pleased Soza said.
Soza has known from his earliest memories he wanted to be in the health professions. His mother was in her final year of medical school in Nicaragua before she fled the fighting and came to America, "so I've always grown up with some sort of medical influence. In my last year of high school, I took an anatomy class that involved dissections. I was absolutely spellbound by organisms' intricacies. I entered college as a biology major."
Soza was a member of the Student Health Professions Association and served as its medical chair and co-president. He helped raise funds for Children's Hospital of Orange County, the National Multiple Sclerosis Society and the Orange County Food Bank. He also organized a number of successful blood drives.
The Goodhue-McWilliams winner also participated in coastal cleanup efforts and interned at Hoag Hospital's Clinical Care Extender Program, assisting patients with feeding, bathing, transport, rehabilitation and grooming.
Soza co-founded the campus Student Science Alliance, which is dedicated to helping students succeed in chemistry, biology and physics. In addition, the club raised funds for the March of Dimes' March for Babies.
To broaden his medical knowledge, he shadows Dr. Ricardo Navas of Cedars-Sinai Medical Center through the Independent Student Volunteers program.
His next step, he said, is applying to medical schools.
What is the hardest part of all this activity?
"Finding ways to balance educational and volunteer activities," said Soza.
What is the easiest?
"The volunteering. I love it. It's knowing that your time and effort has had a positive impact on someone's life."
Photos are available online at www.fullerton.edu/newsphotos.