Debate Film Receives Emmy Nomination
Speech Communication Professor and Debate Coach Featured
August 18, 2009
By Valerie Orleans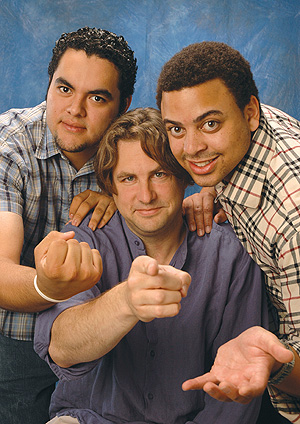 Jon Bruschke with two of his former debate students — Luis Magallon and Cameron Ward. Photo by Jeanine Hill
Professor. Debater. Mentor. Coach. Spirit Guide?
Throughout his many years as a college professor and debate coach, Jon Bruschke has been called many things. But spirit guide was a first.
But spirit guide is, in fact, the title given to Bruschke, by filmmakers who created the documentary "Resolved."
Bruschke, professor of human communication studies at Cal State Fullerton and longtime adviser to the university's award-winning debate team, is featured prominently in the documentary, as are members of Titan debate team. Toni Nielson, a lecturer in human communication studies who also plays a leading role in advising and coaching the debate team, is prominently featured in the film as well.
"Resolved" focuses on high school debate and two students who were supported by the Southern California Urban Debate League. Cal State Fullerton debate team members often provide coaching to SCUDL members. In fact, some of Cal State Fullerton's best debaters were once SCUDL members and were attracted to Fullerton because of the nationally ranked debate team.
"I served as the film's debate expert," Bruschke explained. "You'll see me repeatedly explaining what I call 'debate stuff' — rules, strategies, that sort of thing."
Now available on DVD as well, there are instructional bonus features provided by Nielson, Bruschke and former CSUF debater Brenda Montes.
Even the Cal State Fullerton campus makes an appearance as the site of an annual high school debate tournament hosted by the university.
"The film's director Greg Whiteley had successfully directed 'New York Doll,' a film that won awards at Sundance, and he wanted to do a documentary about debate," Bruschke said. "We'd gone back and forth, and eventually he wanted to offer me a job as a consultant for his new film. I told him that the word 'consultant' seemed profane to me, because my dealing with consultants was that they were people who took a lot of money for doing almost nothing.
"I told him I'd give him whatever help he wanted for free, but that I had to get screen credit as the film's 'spirit guide.' My job, as I saw it, was not to pursue cheap commercialism in the film industry, but to guide the spirit of the director and the movie to exhibit the beautiful core to academic debate, which can look downright ugly on its skin."
The movie is nominated in the "Outstanding Informational Programming — Long Form" category, in this year's Emmy Awards line-up. The award will be presented prior to the September prime-time awards event in the News and Documentary ceremony.
"There have been various attempts to turn the debate world into a movie topic, and they have ranged from the 'noble but boring' to the downright embarrassing," Bruschke said. "But this movie hit it just right. It was fantastic just to be part of the creation of the film but to have it get an Emmy nomination is beyond anything we'd hoped for."
For more information about the film, go to www.debatemovie.com.