Leader Extraordinaire
John W. Bedell Elected Vice President of the Orange County Board of Education
August 4, 2009
By Valerie Orleans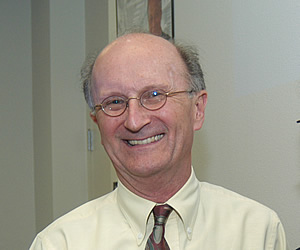 John Bedell
Cal State Fullerton faculty member John W. Bedell was recently elected vice president of the Orange County Board of Education.
The veteran professor of sociology, who currently serves as chair of the Anthropology Department, has been a member of the Orange County Board of Education and been active in the state agency for several years, serving as president in 2008. Previously, he served as president and as a member of the Fullerton School District Board of Education.
Bedell has served five one-year terms as chair of the university's Academic Senate, the faculty advisory body. In 2007, he received the Faculty Leadership in Collegial Governance Award for his extensive service to campus governance and the mission of the California State University.
A member of the faculty since 1969, Bedell has served several terms as chair of Sociology, as well as chair of the departments of Child Development, Electrical Engineering and, most recently, Anthropology. He served two terms as director of the Faculty Development Center, as well as acting vice president for academic affairs.
In addition, Bedell has led the systemwide Academic Senate for three terms and was acting vice chancellor of academic affairs for the CSU for two years.
Bedell's community service also includes serving as president and member of the board of directors of the Fullerton Civic Light Opera, president and member of the church council of St. Paul Lutheran Church, and chair and member of the board of the Orange County Area Agency on Aging.