Tangled Web of Love
Chekhov Play 'Ivanov' Opens Oct. 9
October 6, 2009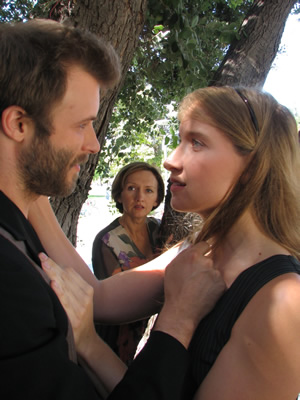 Anna Ivanov (Svetlana Efremova, center) discovers her husband (Ben Lambert) with Sasha (Hannah Parsons) in a scene from the upcoming play "Ivanov" by Anton Chekhov. The campus production opens Oct. 9 and continues through Nov. 1 in the Hallberg Theatre. Photo by Jim Volz
Love turned upside down is the theme driving the Anton Chekhov play "Ivanov," which opens Oct.9 in the Hallberg Theatre.
Considered one of Chekhov's most accessible plays, "Ivanov" tells the story of Nikolai Ivanov and his wife, Anna, who not only gave up her Jewish heritage to marry Nikolai, but also is dying of tuberculosis. Ivanov, however, has fallen out of love with his wife and in love with Sasha, which brings admonishment from Anna's doctor.
It's a "Mad Men-esque dramedy with a lot of humor and two professional guest artists, Svetlana Efremova as Anna and Jim Young as Shabelsky," said director Maria Cominis.
Efremova, professor of theatre and dance, is an award-winning Russian actress with a long list of American film, television and theater credits. Young, emeritus professor of theatre and dance and the department's founding chair, has toured worldwide, performing the story of Rotary Founder Paul Harris.
Joining the two veterans on stage are students Ben Lambert as Ivanov, Paul Collins as Lebedev, Jocelyn Pronovost as Zinaida, Keiko Suda as Babakina, Andy Babinski as Dr. Lvov, Andrew Campbell as Borkin, Mathew Gardner as Kosyk, and Hannah Parsons as Sasha. Scenic Design is by Natalie Rich, Lighting Design is by Nick Van Houten, Costume Design is by Marc Martinez and Sound Design is by Natalia Cervantes.
"Ivanov," which was written in 1887, runs through Nov. 1. Tickets are available at the Joseph A. W. Clayes III Performing Arts Center box office or online at www.fullerton.edu/arts/events. The center's box office is open from 11 a.m. to 4 p.m. Mondays through Fridays and one hour prior to performance. For more information, call 657-278-3371.