New Associate Dean Named
College of Communications Appoints Irene Matz
March 3, 2009
By Valerie Orleans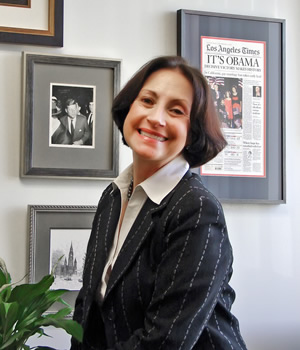 S. Irene Matz
S. Irene Matz, associate professor of human communication studies, is the recently appointed associate dean for the College of Communications.
The veteran educator is responsible for reviewing curriculum, approving new course proposals, overseeing the hiring and orientation of part-time faculty, developing performance standards and review programs, program accreditation, and compiling the college's annual report. She will continue to serve on numerous campus and community committees on behalf of the college.
"I'm looking forward to this new role," Matz said. "I have received such great support from the faculty and staff. One of my first duties will be to prioritize the needs in the college. The budget crunch makes this a bit more difficult but by working together effectively, I'm sure we can outline some common goals."
Organizational development is at the heart of Matz's work — in fact, her doctorate from Claremont Graduate University is in education/organizational communication.
She has a long history at Cal State Fullerton … starting as a student. The university alumna earned both her bachelor's and master's degrees in speech communication (in 1980 and 1984) at CSUF while working in academic and staff positions.
"When I was in grad school," she said, "I also was teaching here and raising three sons who are now all teachers."
Upon receiving her doctorate in 2003, Matz was hired as an assistant professor of human communication studies. She was promoted to associate professor in 2008.
Over the years, Matz taught courses in leadership, organizational communications, intercultural and interpersonal communication, and small group communications. She also taught business writing for the College of Business and Economics for eight years. Matz is looking forward to her new role and assignments.
"I have never felt so comfortable in a transition," she said. "I think that's attributable, in large part, to the wonderful people who I work with and all their support. Add to that, the fact that I've worked here so many years — across many different departments — and it just feels right. It feels like home."
While Matz admits to feeling saddened that she won't be able to spend as much time in the classroom, she enjoys the satisfaction of knowing that she is creating an environment that supports faculty, staff and students.
Related Story:
Joint Program Offers Real-World Experience in Corporate Problem Solving