'Hidden Wounds, Paper Bullets'
Grand Central Art Center Mounts New Exhibit
November 10, 2009
By Paula Selleck
Works by eight artists of Iranian descent are featured in the new exhibit "Hidden Wounds, Paper Bullets: Iranian Contemporary Art" now on display at the university's Grand Central Art Center in Santa Ana.
The Iranian revolution of 1979 was the catalyst for their artistic expressions in paintings, sculpture, performance art and other works assembled for the exhibit, which continues through Jan. 10. The Islamic revolution so disrupted their lives that many fled alone or with their families to other countries, including the United States.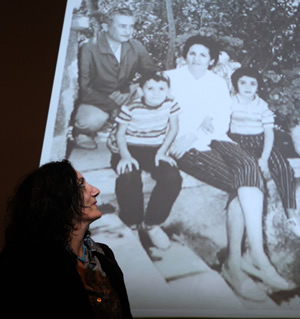 Alina Mnatsakanian looks up at a family snapshot that is part of one of her installations in the Grand Central Art Gallery exhibit.
Though the artists' home bases are now scattered around the world, many attended Saturday's opening that included a performance piece created for the exhibit by Alina Mnatsakanian, an Armenian born and raised in Tehran.
Seated on a chair before projected images of family snapshots from her youth, Mnatsakanian wrapped herself in fabric while talking about Iranian women and the veils they wear. Chatting on the eve of the performance, she explained that she sees the veil as a form of "protection for men." She described her narration on how men are "weak and powerless" as a form of satire. A videotape of her performance is to be incorporated into the exhibit for others to see.
Also in the exhibit is her installation "The Mountain Comes to Me," featuring images of Turkey's (formerly Armenia's) Mt. Ararat projected on a wall. In the foreground, a model of the snow-capped mountain is mounted atop a robot that turns the mountain and moves it around the floor in a circular pattern. Nearby, a bank of televisions transmits images of would-be newscasters in France, Iran and Switzerland (where Mnatsakanian now lives), along with artists' simulations of the mountain lifting up and floating along in the sky like an air balloon.
"Why have this beautiful mountain sitting in the Eastern part of Turkey," Mnatsakanian had mused when conceiving the installation. "Why not take it out for a world tour?" Exhibit visitors can listen through headphones to the broadcasters describe the mountain's journey throughout 12 countries in Europe and the reaction of the citizenry to the peak's modern-day magic carpet ride.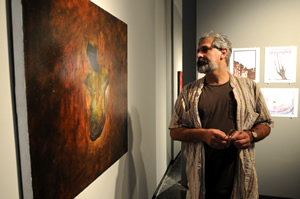 Artist Yari Ostovany checks his artwork "The Martyr." The piece, along with those behind Ostovany are part of the current exhibit, "Hidden Wounds, Paper Bullets" at the Grand Central Art Center in Santa Ana. Photo by Kelly Lacefield
Mt. Ararat also has attracted the attention of some in the scientific community who believe that is where Noah's Arc lies buried in the snow.
"It's a symbolic mountain, for many reasons," Mnatsakanian noted, pointing out that Iran has been home to a large Armenian community since the 16th century. She couples her understanding of the Iranian culture with "a heart that's Armenian." Having also lived for several years in Los Angeles and France, she sees herself as "open to mixed identities."
Also exploring themes of identity and "the nomadic aspect of my own story" is painter Yari Ostovany now living in Reno — by way of Germany, San Francisco, Costa Mesa and Santa Monica. He, too, was born in Tehran and is now a naturalized American citizen.
"It's two sides of the coin; you're neither here nor there, and both here and there."
He spoke of how his appreciation for the United States increased after spending five years living in Germany. As was the case for many Iranians at the time of the revolution, he left Tehran at age 16, yet feels his "backbone is there."
As for his paintings, they "have to speak for themselves; they have to unfold for themselves," which, he said, gives the artist "time to catch up with the work." He said he favors the Zen approach: "Let the work reveal itself."
Other artists exhibiting are: Aydin Aghdashloo, fine artist and illustrator from Tehran; Makan "Max" Emadi, a painter from Claremont; Taraneh Hemami, an installation artist from San Francisco; Hadieh Shafie, sculptor and painter from Baltimore; and Shadi Ghadirian, a photographer from Tehran.
Elizabeth Little, a graduate student in the master of fine arts in art program in exhibition design, is the show's curator. She chose the artists and drew praise from them for her dealings with them and for the variety of the work exhibited. "It's been a real pleasure working with the curator," said Mnatsakanian. "Elizabeth has worked hard," added Ostovany, citing "a good range of work" featured in in the show.
In conjunction with the exhibit, a 7 p.m. screening of the critically acclaimed 2007 animated film "Persepolis" is scheduled for tonight (Nov. 10). A panel discussion among faculty members from Pepperdine University is planned for 5 p.m. Saturday, Dec. 5. All activities are open to the public.
More details and images of some of the art works available at the Grand Central Art Center website.