Future Forecasts
Experts Provide Insights for Outlook of California and The Nation
February 3, 2009
By Valerie Orleans and Mimi Ko Cruz
According to political columnist Dan Walters, three factors make California difficult to govern: 1, boom/bust economic cycles; 2, population growth; and 3, cultural change.
"Our economy is in a recession that may be the worst since the Great Depression," Walters said at a Jan. 21 "Inaugural Insights" forum on campus. "We have gone through recessions before, of course. We have a tendency to move in boom/bust economic cycles. The tech industry. The housing market. When we are in a bubble, there is a surge of spending and taxes are cut. But when the bubble bursts, our government is left with the tax cuts made during the bubble and too much spending. And, the deficits become worse.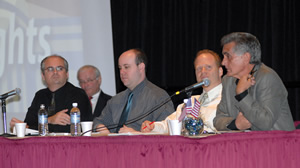 From left: Stephen J. Stambough, Keith O. Boyum, Matthew G. Jarvis, Scott J. Spitzer and Phillip L. Gianos. Photo by Kelly Lacefield
"What California needs is a stable economic model so we can get out of this boom/bust cycle," he said. "The people we elect are not the problem or the solution. It's a systemic problem."
Walters writes a column devoted to California political, economic and social events for the Sacramento Bee. His work appears in more than 50 newspapers. In 1986, his book, "The New California: Facing the 21st Century," was published in its first edition. The book has since undergone revisions and has become a widely used college textbook about socioeconomic and political trends in the state.
His "State of the State" talk was the keynote address at the forum, sponsored by Academic Affairs.
Walters talked about the state's "metamorphosis" over the decades. He said that at least 400,000 jobs vanished with the collapse of California's aerospace industry, followed by more doom after the technology and housing industries busted.
The state's "extremely high" birth rate (about 550,000 babies — 60 percent from immigrant mothers — are born each year), Walters said, keeps rising even in times of economic instability.
"Even factoring in death rates, our state population still increases by 400,000 to 500,000 each year," he said. "To keep pace, we need to create a quarter of a million new jobs each year. Population growth also creates an increased demand for housing. And, there are more cars and vehicles on the road. Sadly, we haven't expanded our freeways and roads to keep pace. In fact, our highway traffic is the worst in the nation. As our population continues to grow, we have more demands on our resources."
With at least 37 million people living in California, Walters said the state is the most culturally diverse in the world.
"We are on the frontier of culture — our courts have interpreters who can speak more than 150 different languages," he said. "We are diverse in terms of race, language, religion, sexual orientation — there are no models anywhere else in the world for us to compare ourselves against."
Such diversity and population growth in the face of economic decline can create problems, he said, because elected officials face a raft of unresolved issues and often can't make decisions because of the way the state operates.
"In 1850, California adopted the federal system of governance," Walters said. "As the state grew, we added and adopted new methods—initiatives, referendums, recalls. This diffused authority even more."
Today's state budget crisis, he said, is "emblematic of the larger crisis" that involves transportation, water, education, housing and job issues.
"Even though politicians try to pass legislation, it becomes mired in the system," Walters said. "Our problems are structural, not political. Until this changes, we will continue to have unresolved problems. It's not a question of electing better people, it's a question of structural change."
Insights on President Barack Obama
Following Walters' presentation, a panel of four political science faculty members provided insights on President Barack Obama and how they see his presidency will take shape. Moderated by Keith O. Boyum, professor of political science emeritus (and recently retired associate vice chancellor at the CSU Chancellor's Office), the panel featured Phillip L. Gianos, emeritus professor of political science; Matthew G. Jarvis, assistant professor of political science; Scott J. Spitzer, assistant professor of political science; and Stephen J. Stambough, associate professor of political science.
"What will be interesting to watch in the next 100 days is how President Obama transitions from campaigning to governing," Stambough said. "When you think back just a year ago, Obama wasn't even the frontrunner. But, he worked on his fundraising and focused on new technology. He got young people engaged. When he developed his inauguration ceremony, he invited people across a range of beliefs: Rick Warren, Joseph Lowery, Gene Robinson. I think he's showing that he can reach out to people across all issues."
Jarvis pointed to Obama's appointees.
"When President Bush was in office, he didn't particularly care what Congress thought," Jarvis said. "Look at Obama's pick to serve as Assistant to the President for Legislative Affairs: Phil Schiliro. Schiliro served as chief of staff to Rep. Henry Waxman, one of the most powerful members of Congress. Waxman is Congress. With that pick, Obama signaled that he will work with Congress."
Spitzer said he believes there will be tension within the administration.
"It seems as if all great presidents — Washington, Lincoln, FDR — assumed the presidency during times of crisis," he said. "Obama's skill will lie not in his capacity to command but in his capacity to persuade. The institutional reality is that there will be obstacles but he's put together a cabinet of many experienced men and women. This team will be effective if they seize the moment."
Gianos also noted Obama's similarities to three past presidents: Kennedy, FDR and Lincoln.
"He has Kennedy's youth and style," Gianos said. "He's a family man with small children. He is compared to FDR in that he is taking over at a time of crisis with the economy and two wars. And, of course, he is compared to Lincoln — a comparison that he strives to emulate."
Stambough said he believes Obama's popularity will most likely drop because his approval rate is so high. "Something has to be accomplished quickly," he said.
"I think we're looking at a period of incredible instability," Spitzer said. "There's the economy, the trouble in the Middle East. Who will Obama be listening to? He's giving clear signals that diplomacy comes first and he'll also need to focus on unemployment and job development. He's a good communicator and listener. What makes him different than other great communicators is that he's taped into the new technologies so the public feels they can express their thoughts as well."
Gianos and Jarvis said that although expectations are high, patience is, too.
"He will have some leeway but he'll need to start work on reforming taxes, health care, the environment, the war," Jarvis said. "Social Security? He can't touch that.
"I thought it was interesting that he used a quote in his inaugural address that referenced 'putting away childish things,'" Jarvis added. "I think that's his way of telling the American public that we need to stop acting like juveniles. There are too many other important things to focus on. This president is a grown-up."
And, "he'll treat the voters like grown-ups, too," Gianos said.