Allegedly
Artwork Forgeries — With a Twist — Through June 14
June 2, 2009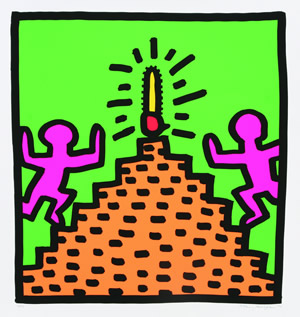 One of Hugh Brown's altered art pieces featuring a chainsaw.
The artwork may seem familiar — all except the chainsaw that is featured in every work.
Now on exhibit through June 14 is "Allegedly: The Hugh Brown Chainsaw Collection" at Cal State Fullerton's Grand Central Art Center in Santa Ana.
Artist Hugh Brown brings together a collection of artwork forgeries: a who's who of contemporary artists, including Ed Ruscha, Bruce Nauman, John Baldessari, Keith Haring, Robert Mapplethorp, Barbara Kruger, Roy Lichenstien, Diane Arbus, Jackson Pollock and many more, all meticulously crafted but with a strange twist … chainsaws!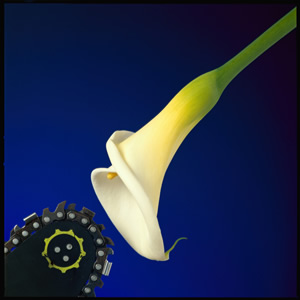 Brown's chainsaw-enhanced Calla Lilly, originally by Robert Mapplethorpe.
Hugh Brown, creative director of Rhino Records, has worked as an artist for 35 years, specializing in photography, printmaking and assemblage. His designs have garnered 11 packaging and design Grammy nominations and three wins, along with more than 50 awards from such publications as Print Magazine, I.D. Magazine and Communication Arts, as well as AIGA - the professional association for design. To learn more about his work, go to www.sawmeister.com.
Grand Center Art Center, located at 125 N. Broadway, Santa Ana, is open 11 a.m -.4 p.m. Tuesdays-Thursdays and 11 a.m. 9 p.m. Fridays. For more information, call 714-567-7233 or go to www.grandcentralartcenter.com.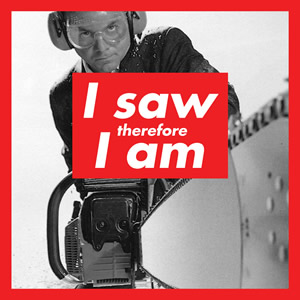 Originally based on photography by Barbara Kruger, with chainsaw-subtle changes by Hugh Brown.