Homecoming March 7
Titan Cagers to Face UCI Anteaters
March 3, 2009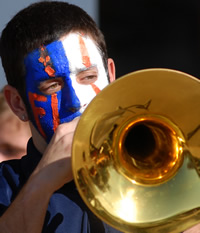 Bill Fritz plays a mellophone with the Titan Varsity Band during the 2008 homecoming tailgate party. Photo by Kelly Lacefield
Titans old and new are invited to join in the festivities scheduled for this year's homecoming.
The action kicks off at 3 p.m. March 7 with a tailgate party featuring family-friendly activities such as a bounce house, balloon artist, face painting and entertainment. Alumni who haven't been through the Student Recreation Center may tour the facility and food from local eateries will be available for purchase.
The action continues at 5 p.m. when the Titan basketball team faces off against the UC Irvine Anteaters.
Alumni, family and friends are invited to register to attend. Each registered guest will receive a commemorative homecoming 2009 T-shirt along with admission to the pregame festivities and a game ticket for $10. For more information, go to http://www.fullerton.edu/homecoming.