Capitalizing on Support
Conservation Experts to Assess Historic Heritage House
March 24, 2009
By Russ L. Hudson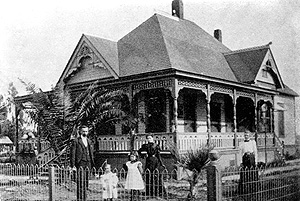 The George C. Clark house, now the Heritage House in the Fullerton Arboretum, a century ago in the heart of downtown Fullerton.
Professionals from the national Conservation Assessment Program arrive on campus in June with a single purpose: to help a 114-year-old piece of Fullerton history — the Heritage House at the Fullerton Arboretum — survive and thrive another 114 years.
The house dates to 1894, a decade before Fullerton incorporated as a city. George C. Clark, one of the city's pioneering physicians, built the Victorian-style home in Fullerton's downtown, at the corner of Amerige Avenue and Harvard — now Lemon Street.
In 1972, community activists saved the house from being demolished to make room for a city road-widening project and the fledgling Fullerton Arboretum made a place for it on its grounds. It has been an integral part of the botanical garden ever since and is in the National Register of Historic Places, the Inventory of California Historic Sites and is an Orange County Historic Site.
CAP funds professional conservation and preservation specialists who identify the conservation needs of museums' collections and buildings, and recommends ways to enhance them. Heritage Preservation, whose membership includes museums, libraries, archivists, historic preservation organizations, historical societies, conservation organizations and individuals, administers CAP and supports it through a cooperative agreement with the federal Institute of Museum and Library Services.
The institute provides the primary source of federal support for the nation's 122,000 libraries and 15,000 museums.
CAP's report will go to Greg Dyment, Arboretum director and an enthusiastic supporter of the project. "What a bonus that CAP agreed to accept Heritage House into their program," he said. "We see this as an excellent checkup on what we're doing. Technologies and techniques change over time, including new preservation methods, and this helps us know we're where we should be."
Heritage Preservation President Lawrence L. Reger praised the Arboretum for "making the vital work of caring for collections and sites a priority at their institution and helping ensure that they are available to present and future generations."
Students and community volunteers have played a part since Heritage House was saved from demolition, Dyment said.
"They helped move the building to the Arboretum site at Cal State Fullerton, then helped repair and rebuild it," he said, adding that students and community volunteers also helped establish the Arboretum during that same time period. Many students, mostly from the university's History Department, participated in maintaining Heritage House and its collection of medical instruments, furnishings and appliances from the 19th century.
Students and community members who serve as docents dress in 1894 garb on special occasions to lead visitors through Heritage House, while other students employ historical research techniques learned in class to improve the museum.
Dyment explained: "Sometimes the provenance of the museum's contents, that is, the history behind them, needs expansion. For example, there may be a pill maker on display. Most doctors made their own pills 100 years ago. The pill makers used in the Southwest at the time the home was built may have been different than those in, say, Cincinnati or New York. Students will research the exact type, model, manufacturer and period in which the pill maker was made and that goes into the museum's database. Activities such as that are crucial for any museum. It's what museums do."
CAP takes five days for its assessment — two days for the survey and three days for the comprehensive report on collection-care policies, procedures and environmental conditions. The Arboretum plans to incorporate CAP's suggestions into immediate, mid- and long-range plans for the structure and collections, said Mark Costello, manager of the Friends of the Arboretum.
Both Dyment and Costello said they hope the mutual student-museum relationship continues when it is time time to implement the CAP suggestions.
Tours of Heritage House are offered from 2 to 4 p.m. on Saturdays and Sundays. Group tours also are available and can be arranged by calling 278-3579.