Former Chief Fundraiser Remembered
Harry R. Gianneschi Dies After Battle With ALS
October 27, 2009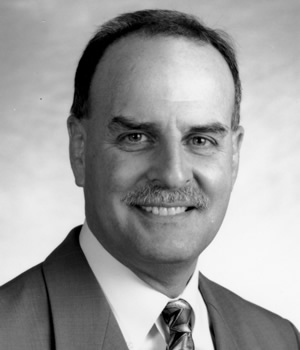 Harry R. Gianneschi
Harry R. Gianneschi, former vice president for advancement, died Oct. 15 after a long battle with ALS. He was 65 years old.
Gianneschi joined Cal State Fullerton in 1991 and served on the Orange County campus for ten years before retiring and moving to Florida. Under his leadership, the university enjoyed nine consecutive years of fundraising growth, with a 1999-00 total of $14.5 million — compared to $2.5 million raised in 1991-92.
Among the programs, events, projects and campaigns created and developed during his tenure were the Front & Center and Vision & Visionaries events; renovations of the George G. Golleher Alumni House and El Dorado Ranch; expansion of Goodwin Baseball and softball fields; establishment of the University Advancement Foundation, It's Our University faculty/staff campaign and Guardian Scholars program; the naming of the Paulina June & George Pollak Library; and completion of Titan Stadium.
Gianneschi also established in 1996 the Center for Nonprofit Research to serve the community and the field of nonprofit sector research as a repository for data about philanthropic, charitable and volunteer activity in Orange County. A year after his retirement, the center was named in his honor.
Prior to joining Cal State Fullerton, Gianneschi served more than 10 years in development and alumni relations, including tenures as vice president for institutional advancement at Metropolitan State College of Denver and vice president for development and public affairs at the State University of New York, College at New Paltz.
Gianneschi, who earned a doctorate in speech, rhetoric and public address from Bowling Green State University, began his career with higher education as an assistant professor of speech and rhetoric at Western Illinois University.
Gianneschi is survived by his wife, Pat, and his two sons Matt and Brad. Private family services will be held in November in Florida, where Harry and Pat had moved after he retired.