Greek Week Nets $37,000
Proceeds Benefit Camp Titan, Scholarship Fund for Late Sorority Sister Courtney Stewart
May 5, 2009
By Debra Cano Ramos
Cal State Fullerton's sorority and fraternity members raised $37,097 during the annual spring Greek Week by holding car washes, restaurant fundraisers, coin drives and selling candy.
They also solicited cash donations from family, friends, alumni and business owners.
Of the money raised, a large portion will be donated to Camp Titan, a student-run philanthropic summer program for underprivileged children in Orange County.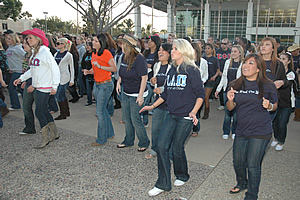 The launch of Greek Week on April 15 paid tribute to late sorority member Courtney Stewart. The evening event included a celebration of Stewart's life with members of Greek organizations and others taking part in her favorite pastime: country line dancing. Photo by Patrick O'Donnell
As a result of the April 9 death of Alpha Chi Omega sorority member Courtney Stewart, the Greeks also decided to establish a scholarship fund in her memory with Greek Week proceeds. Stewart and two of her friends died when the car she was driving was hit by another vehicle in a Fullerton intersection.
More than 500 sorority and fraternity members participated in April 15-19 Greek Week activities. The April 15 Greek Week launch also paid tribute to Stewart, who was a sophomore majoring in communications. The evening event included a celebration of Stewart's life and was attended by hundreds of students, friends, family members and others. Greeks danced to country music — line dancing was what Stewart loved to do — and her sorority sisters and friends shared how she touched their lives.
Details have not been established regarding the scholarship fund for Stewart, said Nick Katz, campus coordinator for Greek life.
"With Greek Week just ending, we'll now determine how much money will go towards Camp Titan, and we'll speak with Courtney's family, along with the Greek Week student leaders, to determine the best course of action," Katz said.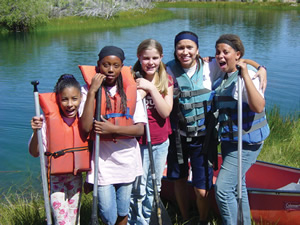 Disadvantaged kids go camping, thanks to Camp Titan and the efforts of the Cal State Fullerton sororities and fraternities. Camp Titan offers a weeklong summer camp experience to youngsters, ages 7 to 14, at Camp Oaks near Big Bear Lake. Campers participate in activities such as hiking, horseback riding, canoeing, archery and arts and crafts.
"One Week, One Goal" was the slogan for the five-day event, which included fun and entertainment. During Greek Week, students held contests, including building "can castles" with donated canned food, participated in softball and football games and performed in a "Lip Sync" singing and dancing competition.
Sorority and fraternity members also are attending a May 8 Angels baseball game where a percentage of ticket sales will go toward their fundraising efforts.
Some of the highlights of Greek Week included: 2,000 pounds of canned foods from the "can castle" contest were collected and will be donated to Cal State Fullerton WECARE Program, which provides services and resources to the elderly; 75 Greek students donated blood to the American Red Cross during a blood drive organized by the campus Volunteer & Service Center; and Greek chapters participated in the American Cancer Society's "Relay for Life" on campus during Greek Week.
"Greek Week is one of the opportunities Greeks have to show the entire campus all of the good things we do," said Jennie Geoffroy, president of the 95-member Gamma Phi Beta Sorority and a child and adolescent development major.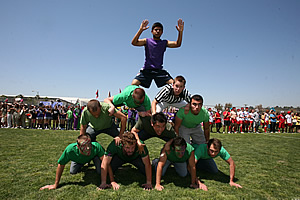 Members from Sigma Phi Epsilon fraternity build a 'human pyramid' during 2009 Greek Week festivities. Sorority and fraternity members plan fun activities and work together to raise money during the five-day campus event. Photo by Edward Salas
"Members of the Greek community are dedicated to serving others, as well as to maintaining scholastic excellence. Greek organizations provide its members with the opportunity to network, develop skills and to actively be a part of college life at Cal State Fullerton."
A fraternity member was a member of the Associated Students Inc. leadership that founded Camp Titan in 1969. Through the ASI-sponsored program, 140 local children spend a week in the San Bernardino Mountains where they participate in various games and activities, discover nature and make new friends. This summer's camp is June 13-20.
Cal State Fullerton students are the largest supporter of Camp Titan and their annual ASI fees help to fund the $96,980 program, said Anthony Ragazzo, director of ASI/Titan Student Union Office of Program Support. About $72,000 comes directly from ASI fees while the remainder is raised by the Greek organizations and through private donations.
"Fraternity and sorority members have been supporters of Camp Titan since its inception," Ragazzo said. "The fraternity and sorority community plays a big part in helping Camp Titan meet its annual goal of raising $25,000 from outside sources."
Over the years, the Greek organizations have not only monetarily supported Camp Titan, members also volunteer at the camp as counselors, program staff and directors, said Katz, who was a counselor and staff member when he was a Cal State Fullerton student and fraternity member.
Of the camp volunteers, about 60 percent are fraternity or sorority affiliated, Ragazzo said. This summer, the camp will have about 65 Cal State Fullerton student volunteers.
"The Greeks are invested in Camp Titan by being student directors, staff members and counselors," Katz said. "They have a sense of personal belonging and ownership with the philanthropy because many of them dedicate a lot of time to Camp Titan."