Guiding STEM Students
Grant Supports Preparation of Math, Science Majors and Teachers
November 2, 2009
By Debra Cano Ramos
Studies indicate a decline in college students majoring in science, technology, engineering and mathematics, yet there is a high need for scientists and teachers in these fields, known as STEM.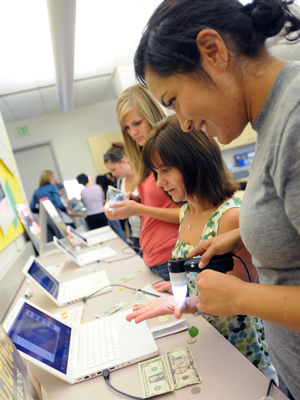 Yaneli Saldana, right, Jayme Barger, center, and Heidi Ware, all elementary credential students, work with ProScopes, or hand-held microscopes for science lessons —the latest high-tech tools for the classroom. Photo by Kelly Lacefield
To boost the number of STEM majors at Cal State Fullerton, the Center for Careers in Teaching has implemented Project GPS2, or Guiding and Preparing STEM Students.
Underwriting the program are funds from a $2.1 million U.S. Department of Education grant awarded to Rancho Santiago Community College District.
Cal State Fullerton has received $364,832 in first-year funding and is expected to receive additional funding later this year. UPDATE 11/17/09: Cal State Fullerton has received a total award of $640,450 for the campus project.
"This grant is providing an opportunity to promote STEM study," said Christine G. Renne, center director and professor of elementary and bilingual education. "With all the cutbacks in higher education, we're fortunate to have the grant funding during this fiscal crisis."
The Center for Careers in Teaching is partnering with Fullerton and Santa Ana colleges during the two-year project.
"The intent of the partnership with the community colleges is to have students from these institutions transfer to Cal State Fullerton to study in the STEM fields and earn their bachelor degrees," Renne said. "With fewer students today majoring in STEM disciplines, and an even smaller number choosing to become teachers, we need to develop ways to increase student interest, preparation and retention."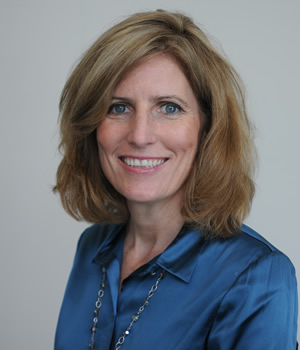 Andrea Guillaume, professor of elementary and bilingual education, teaches elementary credential students how to integrate technology in their teaching in the recently renovated Professional Activities Center. Photo by Kelly Lacefield
Cal State Fullerton and the two partner colleges are designated Hispanic-Serving Institutions, serving more than half, or 57 percent, of the Hispanic students attending the 11 public higher education institutions in Orange County, Renne explained.
A key goal is to increase the number of Hispanic and other underrepresented students attaining degrees in the STEM fields.
Other goals of the project are to:
provide a smooth transition for STEM students from partner community colleges to Cal State Fullerton and to develop a model that other community colleges and four-year institutions may use;
increase the number of secondary math and science teachers and improve the knowledge, skills and abilities of prospective elementary school teachers in math, science and technology.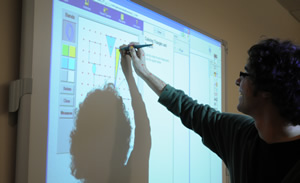 Elementary credential student Michael Kubasek works an interactive whiteboard installed in the newly renovated Professional Activities Center. Photo by Kelly Lacefield
High-Tech Classroom
Project funds were used to renovate the Professional Activities Center, located on the fourth floor of Pollak Library. The room has been modernized with the latest technology to better prepare future teachers for their own technology-equipped classrooms.
Tools include laptop computers for class use, an interactive whiteboard, hand-held digital microscopes and digital video recorders for science lessons and "clickers," or text-capable classroom response systems, that promote interactive learning.
"Project GPS2 is providing access to technology tools that would not otherwise be available to teacher candidates in the credential and graduate programs," said Andrea M. Guillaume, professor of elementary and bilingual education who uses the room to instruct future teachers.
"This project ensures that all of our teacher credential candidates are prepared to teach their K-6 students the information and communication technologies that will help them achieve success as citizens of the 21st century."
Christine G. Renne, director of the Center for Careers in Teaching and professor of elementary and bilingual education, oversees Project GPS2 — Guiding and Preparing STEM Students. Photo by Kelly Lacefield
Instruction Workshops
Project GPS2 funding also will help pay for supplemental instruction workshops offered in the College of Natural Sciences and Mathematics, which are led by peer facilitators to help undergraduates succeed in science and math introductory courses.
Studies show that many STEM undergraduates need assistance in order to do well in math and science and go on to pursue teaching careers in these areas, said Martin V. Bonsangue, professor of mathematics.
The supplemental instruction workshops are more than the traditional tutoring approach. In these workshops, students undertake additional, challenging assignments to build confidence and self-reliance, Bonsangue said.
"They engage in active learning and cooperative learning activities, utilizing peer facilitators as resource persons," he said.
Additionally, the grant is providing funding for:
A new community college adviser to provide academic counseling and outreach services to students at Fullerton College and Santa Ana College.
Four student STEM ambassadors to make presentations at local high schools to promote STEM majors, STEM teaching and Cal State Fullerton's teacher preparation programs.
Mini-grants, totaling nearly $20,000, for various activities, such as registration fees for orientation for community college transfer students majoring in STEM and faculty curriculum collaborations.
This fall, students in the elementary and bilingual education credential program began using the technology as part of their teacher preparation.
"I'm so excited about the technology," said Bonnie Wilson, an elementary credential student. "Being able to know how to use technology and bring it into the classroom is such a bonus; it gives me a step above another candidate."