Teacher as Artist
Grand Central Hosts Faculty Art Show
October 6, 2009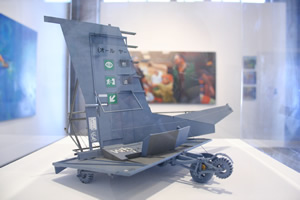 An art piece by CSUF faculty
The Grand Central Art Center in Santa Ana is currently exhibiting the work of 26 faculty artists. "F+" runs through Oct. 18.
The triennial exhibition highlighting the talents of the university's art faculty includes the work of Joe Biel, Bryan Cantley, Cliff Cramp, Jim Dahl, Andrew Dickson, Joe Forkan, Chuck Grieb, Arnold Holland, Christian Hill, Betsy Holster, Jim Jenkins, Jade Jewett, Larry Johnson, Linda Kroff, Dana Lamb, Don Lagerberg, John Leighton, Sergio Lizarraga, Theron Moore, Nobuhito Nishigawara, Christina Smith, Brandon Strathmann, Kyung Sun Cho, Hala Swearingen, Chen Wang, and Lawrence Yun.
Grand Central Art Center is located at 125 N. Broadway, Santa Ana. The center is open 11 a.m.-4 p.m. Tuesdays through Thursdays and Sundays and 11 a.m. -7 p.m. Fridays and Saturdays. First Saturdays of the month, the galleries are open until 10 p.m. For more information about the exhibit, call 714-567-7233.