Green Information Technology
Using High Tech Efficiently for Higher Education
February 17, 2009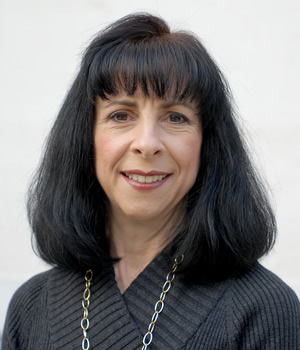 Katherine Kantardjieff
Cal State Fullerton chemist and and faculty coordinator for academic technology Katherine Kantardjieff used her half hour during the Feb. 5 Global Warming Teach-in to argue for replacing the old goal of energy efficiency with a new, zero-carbon strategy for the university's cyberinfrastructure — the coordinated aggregate of software, hardware and other technologies, as well as human expertise, required to support current and future discoveries.
Kantardjieff noted that cyber-infrastructure is often the second largest consumer of electricity on university campuses after basic heat and power, and that as a consequence of power consumption, one small computer server can generate as much carbon dioxide as a SUV with a fuel efficiency of 15 miles per gallon.
Citing "The Future of Sustainability: Re-Thinking Environment and Development in the 21st century," by the International Union for Conservation of Nature — the world's oldest and largest global environmental network — she defined green information technology as the study and practice of using computing resources efficiently.
"The future of cyberinfrastructure is about building network and computational architectures and business models that help reduce CO2 emissions," she said.
Green information technology shares similar goals with green chemistry: to reduce the use of hazardous materials, maximize energy efficiency during the product's lifetime, and promote recyclability or biodegradability of defunct products and factory waste.
"Moreover the knowledge and skills needed to design, deploy, adopt and apply cyber-based systems change how we teach and how we learn to prepare a globally engaged workforce."
(Download Kantardjieff's presentation on the subject here)
Related Story:
Crystallographer Wins Andreoli Award
For questions about Kantardjieff's presentation, contact the professor at kkantardjieff@fullerton.edu.