Speaking for Tolerance
Freshman Wins Martin Luther King Speech Contest
March 17, 2009
By Mimi Ko Cruz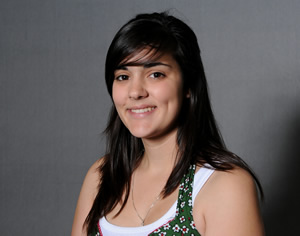 Gina Alessi
Major: Art
Year: Freshman
Age: 19
Hometown: Paso Robles
Hobbies: Designing artwork with Photoshop, InDesign and other programs; helping people make brochures, flyers, banners or whatever they need; performing in drumlines; playing percussion; and studying newspaper and magazine design
Favorite Book: "Lord of the Rings" by J.R.R. Tolkien
Favorite Movie Quote: "There's some good in this world, Mr. Frodo... and it's worth fighting for."
Gina Alessi loves telling people about her sisters: 20-year-old Patricia has a "huge heart" and 15-year-old Madeline is "the funniest kid you'll ever meet."
"Patricia's a real sweetheart," Alessi said. "She has a job at the post office in Paso Robles and she's always so excited when she gets her paycheck. Madeline likes to play jokes on people and when you make her laugh, she has the best laugh in the whole world. I love them so much."
Both sisters have Down Syndrome, and Alessi wants "to make sure they get an equal opportunity in this world."
That's why she wrote and delivered a speech on campus during Black History Month. Her words took top honors in Cal State Fullerton's first Martin Luther King Speech Competition.
"I believe the disabled community has some of the kindest, purest, joyous and most innocent hearts in all of America," said the 19-year-old. "Every time I hear the word 'retard' I think of how my sisters don't deserve to be laughed at. ... I think of how my little sister almost died as an infant due to medical complications and how, even though the fact that she survived is a miracle to our family, some people would still be quick to laugh at her because she looks and acts a little different."
Alessi said she was inspired to speak up against discrimination of the mentally disabled a few years ago when her mother told her about a high school senior from Illinois, Soeren Palumbo, who spoke on the topic.
"Palumbo's speech was so effective, he even got to read it to the Illinois Senate," Alessi said. "I've also been trying to spread his message on how people shouldn't say the word 'retard.' "
An excerpt from Alessi's speech:
Since the days of the civil rights movement and Martin Luther King's dream, we have done our best to strive for equality for all people. That brave man lived and died so that we could have a world that would not discriminate against others. I know that if you saw a group of white-skinned people beating an African American, you would do something about it. But, if we changed that African American into a person with a disability, and those whites became a group of snickering people calling him or her a 'retard,' would you do something then?
Alessi's charge was to use some aspect of King's "voice" in her speech, said David B. McKenzie, assistant dean of student affairs for the College of Humanities and Social Sciences, one of the competition's judges.
"Ms. Alessi asked the audience to be a bit more thoughtful and not use the word 'retard' when speaking negatively about someone or something," he said. "When she spoke lovingly about the innocence of her two sisters with Down Syndrome, the audience hung on each word."
Alessi recently answered a few questions:
Why did you enter the contest?
I honestly wasn't expecting to win. I'm just really glad that I got to speak to everyone, and I hope my message got through to people. I entered the contest so that I could have an audience for my speech. My purpose was to share with people my love and compassion for those with disabilities and to explain why the R-word is not OK to use.
What do you think about Martin Luther King?
I think he was a man with an amazing gift and an extraordinary relationship with the Lord. I believe he was and is an inspiration whose name will never be forgotten.
What is your philosophy on life?
I'd like to believe that there's some good in this world, and that it is worth fighting for.
There's a quote that I knew in my teenage years that I've always held dear: "To the world you may just be one person, but to one person you might just be the world." It means that no matter how small you feel, if you can make a positive difference in the life of one person, you have made the world a better place. I also like to say, "smile at a stranger." You never know whose life you may have just saved.
Comments:
Leave a comment on this story at http://www.ocregister.com/articles/people-world-speech-2323555-alessi-person.