New Business Titans
Trio Look Forward to Using Their Entrepreneurship Education
May 19, 2009
By Pamela McLaren
While others may worry about what the future will bring in these uncertain economic times, three Cal State Fullerton commencement candidates who have majored in business administration with an entrepreneur concentration, are eager to get out and put their degree to good use.
An Example to Her Kids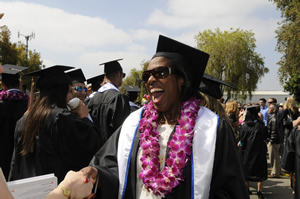 Charlesetta Medina
"I see the current economy as an opportunity, not a major downturn," said Charlesetta Medina of Buena Park. "I think that's the value of the Cal State Fullerton program. What this program gives us is the confidence that we can move right through this time period — it won't always be this way."
A single mother with three children, Medina returned to college to earn a degree after being laid off in 2003. "Did I have a game plan? No, but I knew that I needed to just take this opportunity and go back to school full-time."
After community college, Medina came to Cal State Fullerton and in doing research on areas to focus on, found the entrepreneurship concentration — six courses on marketing, finance and accounting taken as part of the business administration program. Under the concentration, students learn to write a business plan, how to start a company and start a business.
"When I saw the concentration, I thought —'that's me!'" Medina said. "It was just a perfect fit."
The reentry student reports that her experience at college has made her more positive and that she has been able to model that positive attitude with her kids.
Today, she said she has become "the queen of part-time and direct sale jobs," and is proud of the fact that she can work around her children's sports, school and other activities and make a solid living for the family.
Medina has been working on the Orange County Networking Directory under the auspices of the university's Center for Entrepreneurship. The resource book, created in the late 1990s, provides lists of groups that can assist and support those hoping to get into a new career or enhance their skills.
"I see the relevance of such publications right now. The importance of networking is just crucial right now and this book provides information at your fingertips," she said.
Medina is looking to do even more with the networking directory.
"Once I've finished updating the listing, I want to get out in the community more," she said. "There are so many things I want to do with it."
In addition, Medina is talking about joining her sister in creating a family business.
"I don't want a traditional 40-hour work week," Medina stressed confidently as she looks forward to taking part in Cal State Fullerton's commencement ceremonies Saturday, May 23. "My life is absolutely amazing."
Entrepreneurial Spirit at an Early Age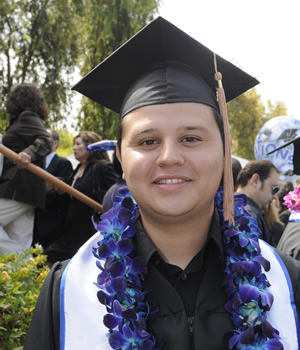 Victor Macias
"I think I've had the entrepreneurial spirit since birth," said Victor Macias of Anaheim. "I never wanted to play cops and robbers, I wanted to play office. I started clubs and always wanted to be president."
As a child, Macias sold candy and began his own lawn service, and when he was 18 years old, bought two pieces of investment property in Texas. Some of his ideas worked and other things didn't — "But I kept pushing, kept going for it.
"I've always liked the freedom of entrepreneurship."
Today, the passion and focus of the soon-to-be business administration graduate continues to be entrepreneurship and the emphasis of his work is web-based.
He's created a digital Men's Grooming Handbook — outsourcing the writing and design — that still sells on Amazon, and is in the midst of creating an E-fitness website that will provide customized fitness plans.
And this summer he will spend a three-month internship with a company that is doing just what he wants to do: build businesses on the Internet or help brick and mortar companies move to the Internet. He has been working on just such a company and wants to get it up and running when he completes his internship.
"I'm looking forward to focusing on my ideas, rather than school work," said Macias. "I look forward to being able to implement what I've learned in my classes."
Business Minded and Balance Focused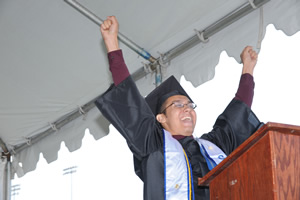 Matthew Gallizzi
Matthew Gallizzi of San Dimas remembers having the entrepreneurial drive at age 9. That's when he began a summer car-washing service in his neighborhood. For four years, he washed cars and the money he earned went to purchasing such things as a bicycle that he owns today.
He then moved onto freelance technical work, creating websites, fixing computers and troubleshooting software problems. At 18, Gallizzi started a technical service business in Los Angeles County.
"I learned the value of money at an early age," said the graduating business administration major, "but I also learned that it wasn't the main emphasis in life."
In 1999, the family home burned and the Gallizzis lost everything. "We lived in a hotel for two weeks and then moved into a temporary home while our house was rebuilt."
While attending his second year in community college, he fell asleep at the wheel of his car while driving home and somehow walked away from a crash into the center divider. "Like the fire, it reminded me of the importance of relationships over money."
Today, as he prepares for the next step after graduating, Gallizzi remains confident that he can achieve anything he wants to in life.
On his first day of college, a computer science class he had registered for was cancelled.
"I thought about that — and the fact that a lot of businesses were outsourcing their technical divisions — and I believed that the class cancellation was for a reason."
He switched to business, specifically Cal State Fullerton's entrepreneurial concentration, and hasn't looked back.
"I loved the program — everything was great," said Gallizzi. "I've learned so much and gained such confidence. I believe that there is so much opportunity out there. I am zero percent concerned about the current situation. We're entrepreneurs, so we make it happen."
Photos are available online at www.fullerton.edu/newsphotos.