Empowering Latina Teachers
Education Professors Study Ways to Boost Confidence in Teaching Math
April 14, 2009
By Debra Cano Ramos
Cal State Fullerton education faculty members are studying the barriers and issues Latina teacher credential students face in learning and teaching math to elementary school children.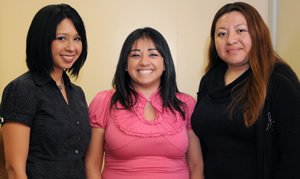 Credential students Monica Lopez,Gabriela Liceaga Reyes and Ingrid Perez are among participants of a study to boost the math teaching skills of future Latina elementary teachers. Photo by Kelly Lacefield
The American Association of University Women last year released the report "Where the Girls Are: The Facts About Gender Equity in Education," a comprehensive look at the educational progress of girls and women over the past 35 years.
While women and girls have made progress, the report also highlighted specific groups of women and girls for whom progress is slower. To provide a platform to address some of the educational barriers faced by minority and low-income girls and young women, AAUW funded the 2008-09 Campus Action Projects.
Three elementary and bilingual education faculty members recently received a $5,000 CAP grant to fund "Promoting Mathematical Confidence Among Latina Pre-Service Teachers." Leading the project are Cynthia Gautreau, assistant professor; Andrea Guillaume, professor; and Lisa Kirtman, associate professor. Mildred Donoghue, professor of elementary and bilingual education, serves as the project's AAUW liaison.
Project participants are Araceli Guzman-Mora, Gabriela Liceaga Reyes, Monica Lopez, Ingrid Perez and Stephanie Valenzuela, all Latina students enrolled in the bilingual credential program to become elementary teachers.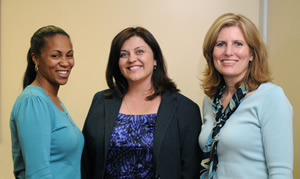 Elementary and bilingual faculty members Lisa Kirtman, Cynthia Gautreau and Andrea Guillaume are leading a project to address barriers Latina future teachers face in learning and teaching math. Photo by Kelly Lacefield
Sue Passalacqua, associate director of the Women's Center, is supporting the project by training student participants on how to deal with acknowledging their accomplishments, as well as motivational factors that help to promote academic achievement among minorities and women.
The CAP project goals are to address the obstacles Latinas may experience in learning and teaching math and to empower them in promoting mathematics learning and confidence among the elementary students they will teach, Gautreau said.
"There's a need to reinforce mathematics among minorities in general," she noted, adding that state and national studies show shocking disparities of math success between Latinos and other students of color compared to their non-minority peers.
One way to reduce this achievement gap among minorities is to improve the quality of training received by future minority elementary teachers.
"It's the dispersion effect," Gautreau explained. "Our hope through this project is to increase Latinas' sense of self efficacy as teachers of mathematics, and in turn, they will have the knowledge and confidence to teach the subject and ignite interest among their students."
Another objective is to create a Web site that identifies possible solutions for addressing math anxiety among future Latina educators. An interactive site is being created, hosted by the College of Education, which will include testimonials from student teachers about mathematics education.
The project's findings will be presented at a May campus forum and at the June AAUW conference at the University of Maryland. Gautreau and Guillaume, along with three students involved with the project, will be presenting at the conference. The Center for Careers in Teaching, under the leadership of Chris Renne, center director and professor of elementary and bilingual education, has provided funding to pay for travel and conference fees for the students involved in the project.