Diego Bocanegra
Former CSU San Bernardino Head Coach Joins Titans as Women's Soccer Assistant
March 9, 2009
From Sports Information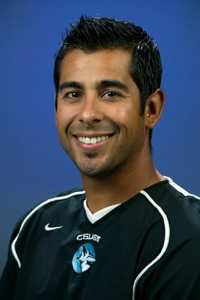 Diego Bocanegra
Diego Bocanegra, head coach the past two seasons at Cal State San Bernardino, has been hired as an assistant to Cal State Fullerton head women's soccer Coach Demian Brown.
Bocanegra compiled a record of 18-13-9 with the Coyotes and developed three all-California Collegiate Athletic Association players in 2007 and four in 2008. He previously served two years as an assistant to Coach Noah Kooiman, a former Titan player, for both the Coyotes' men's and women's teams. Prior to joining San Bernardino, Bocanegra was an assistant for the men's team at UC Riverside for three seasons and served one year with the men's team at Pomona-Pitzer.
An extensive background in club soccer also fills Bocanegra's resume. The Alta Loma resident coached the Alta Loma Arsenal Girls and Boys teams in various age categories for many years and later became an assistant and then the head girls' coach at Alta Loma High School, his alma mater. Bocanegra's playing career included several stops — the Alta Loma Arsenal, Alta Loma High School, the Olympic Development program, Grand Canyon University in Arizona, UCLA and finally, 1997 at Fresno State, where he earned a bachelor's degree in liberal studies.
Diego's younger brother, Carlos, is a member of the U. S. National Men's Soccer Team after enjoying an All-American career at UCLA.
Bocanegra replaces Scott Alexander, who resigned at the end of the 2008 season.