Coaches in the Kitchen
Serrano Switches Hats in Cooking Competition
January 22, 2009
From Sports Information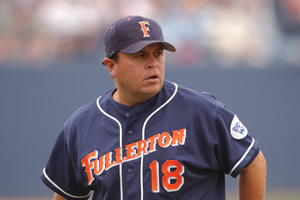 Dave Serrano
Titans' Head Coach Dave Serrano and eight other college baseball coaches will trade their ball caps for chef hats from 8 to 11 a.m. Saturday, Jan. 24, at Downtown Disney's ESPN Zone, 1545 Disneyland Dr. in Anaheim, as they compete in the "NCAA Baseball Coaches Cook-Off."
Joining Serrano in the "Iron Chef" style competition will be USC's Chad Kreuter, Long Beach State's Mike Weathers, Cal State Northridge's Steve Rousey, LMU's Jason Gill, Pepperdine's Steve Rodriguez, UC Irvine's Mike Gillespie, San Diego's Rich Hill and UC Santa Barbara's Bob Brontsema.
The Southern California coaches will each team with an ESPN Zone chef to prepare an entrée in a 20-minute time frame and then present their creation to a panel of judges. The dishes will be graded on presentation, creativity and taste.
Along with the always-important bragging rights, coaches will be vying for top honors in all three of the categories as well as the "Top Chef" billing for the best overall score.