Duke Inspires Dave
Ellington Enthusiast Applauds, Supports Students
March 17, 2009
By Paula Selleck
The audience that gathered Sunday in Cal State Fullerton's Meng Concert Hall to hear the Duke Ellington Orchestra perform included a special patron. He wore a tie festooned with musical notes and brought along a vintage copy of the 1931 sheet music for Ellington's "Mood Indigo," which was autographed after the concert by each of the band members.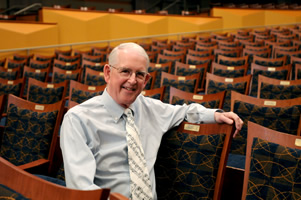 Dave Reid sits in one of the chairs he sponsored in Meng Concert Hall. The gold nameplate reads: "In Honor of George Gershwin." Photos by Kelly Lacefield
Whittier resident Dave Reid is such an admirer of Ellington — and such a supporter of the university's College of the Arts — that he donated funds to have a seat named in the concert hall in Ellington's honor.
As part of a fundraising campaign the university launched when the Clayes Performing Arts Center was on the drawing board, donors could contribute $1,000 for the privilege of having their names etched on a chair in the concert hall.
Typically, donors chose their own names or those of family members to memorialize. Reid, however, chose to recognize two music greats — Ellington and George Gershwin. Their nameplates now adorn seats Seat 115, Row D and Seat 112, Row B, respectively.
"I consider Duke Ellington and George Gershwin two of the geniuses of American music. That's why I chose to honor them in Meng Hall, a fabulous venue, where their music would be played," said Reid, who just made another donation to name a third chair — this time for jazz bandleader Stan Kenton.
As much as he admires these legends of music, Reid is perhaps an even bigger fan of the students who perform on the various stages of the Clayes Center. He frequently attends productions of the Theatre and Dance Department, as well as Music Department concerts.
He's on a first-name basis with the directors of the University Symphony Orchestra and Jazz Ensembles, follows the musical progress of students in the Jazz Ensembles and is a regular at their fundraising events.
As a lifelong jazz enthusiast, Reid said he was delighted to find that the Cal State Fullerton Music Department had a respected jazz program when he first joined the university. "In my opinion, the program has grown and blossomed under Chuck Tumlinson, the director for the past several years. With the addition of Bill Cunliffe, Grammy-nominated composer, arranger and jazz pianist, to the jazz studies faculty, CSUF has to have one of the best collegiate jazz programs around. It continues to attract talented young musicians from throughout the region."
An active member of Fullerton's Friends of Jazz, Reid drops into one of his favorite jazz clubs, Steamers in Fullerton, when the students perform there. Between sets, he congratulates the young musicians on their efforts. His enthusiasm is such that he often brings along friends and colleagues to share in the enjoyment of the students' "enormous talents."
Reid, now retired after 32 years as a Los Angeles Times Promotion Department executive and nine years as a member of the university's Public Affairs staff, has found many ways to further his support of students and their faculty mentors: He is a member of the Colleagues of the College of Natural Sciences and Mathematics and attends their Colloquium gatherings, as well as the college's annual commencement and awards ceremonies; he supports the Titan baseball team and has been among well-wishers waving them on to victory when they board the bus departing for the College World Series. He also is a member of the President's Associates, Music Associates and Osher Lifelong Learning Institute. In addition, he serves on the College of Education Leadership Council, and a few years ago, he endowed a scholarship for graduate students specializing in reading education.
The Jean Carolyn Brenneman Memorial Scholarship is named for his late friend. He describes her as "an outstanding educator," who dedicated her 40-year career to teaching youngsters how to read. Reid helps to keep her memory alive by meeting each year's scholarship recipient and inviting the honoree (and spouse) to be his guest at the university's annual Concert Under the Stars — another of his favorite showcases for students.
"I've gotten to know these scholarship winners, and they're absolutely dynamite," said Reid, who was invited to be a guest reader in the second-grade class of one year's scholarship recipient, Heather Bosworth. On that day in Foothill Ranch, he brought books by Dr. Seuss and other favorites of Brenneman. He also brought along signed photographs of NASA astronaut Tracy Caldwell, a Cal State Fullerton graduate he had interviewed and written about during his tenure at the university.
Reid arranged for Caldwell to return to her alma mater to deliver an address during the university's 40th anniversary festivities. He continues to follow Caldwell's career and accepted her invitation to join family members and friends to watch Space Shuttle Endeavour's launch from the Kennedy Space Center in 2007. It was Caldwell's maiden voyage into space, her lifelong dream.
Helping students "realize their dreams" is what propels Reid as both a CSUF donor and volunteer. This month, he was made a lifetime member of the Reading Educators Guild and also sponsors one of its student scholarships.
"He comes to everything we do and is really one of our best supporters and volunteers," said Claire Cavallaro, dean of the College of Education. "He also speaks from the heart. For example, at our autumn awards ceremony, where we honor scholarship donors and recipients, he talked about what it meant for him to be a donor . . . I think it really set a very good example for many of the other people in the room. He has generosity of spirit, and he leads by example."
Reflecting on his support for teachers studying to be reading specialists, Reid said: "Good teachers can make a difference in children's lives, but exceptional teachers, like Laura Monahan, our latest Brenneman scholarship recipient, can be agents of change. Knowing Laura and the other scholarship winners makes me feel good about being a scholarship sponsor. In a way, it's like being a partner in their efforts to teach reading and other subjects to generations of students who will one day take their places as informed citizens."
In his spare time, Reid can be found in his woodworking shop at home making toys for the annual Woodworkers of Whittier Christmas toy drive. He also enjoys taking trips to Las Vegas, where he plays games involving non-musical numbers.