Inaugural Insights
Veteran Journalist Delivers Keynote Address at Jan. 21 Forum
January 13, 2009
By Mimi Ko Cruz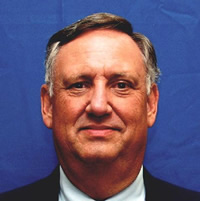 Dan Walters
A day after Barack Obama takes the oath of office to serve as America's 44th president, Cal State Fullerton will host a discussion on his inauguration and what it means.
The "Inaugural Insights" forum, set for 8:30 a.m. to noon Wednesday, Jan. 21, in the Titan Student Union, will feature a keynote address by veteran journalist Dan Walters and a panel of campus political scientists.
The event, sponsored by Academic Affairs, is open to the public.
"It's a day after the inauguration, so we thought to look at the larger picture — the rise of President-elect Obama, and more particularly, the fortunes of the state, budget-wise," said Tony Rimmer, director of the Faculty Development Center.
Walters' talk, titled "State of the State," will focus on California's budget crisis.
"I will attempt to describe the factors that make California difficult, or perhaps impossible, to govern," said the veteran journalist who has covered California for more than four decades.
Walters joined the Sacramento Union's Capitol bureau in 1975, just as Jerry Brown began his governorship. In 1981, he began writing the state's only daily newspaper column devoted to California political, economic and social events and in 1984, he and the column moved to the Sacramento Bee. He has written more than 7,000 columns about the state and its politics and his work appears in more than 50 newspapers. In 1986, his book, "The New California: Facing the 21st Century," was published in its first edition. The book has since undergone revisions and has become a widely used college textbook about socioeconomic and political trends in the state.
After Walters speaks, faculty members Phillip L. Gianos, Matthew G. Jarvis, Scott J. Spitzer and Stephen J. Stambough will comment on Obama and how they see his presidency will take shape. Moderating the panel will be Keith O. Boyum, emeritus professor of political science. Boyum recently retired as associate vice chancellor of the California State University system, where his work included policy development and operational oversight of CSU systemwide academic affairs initiatives.

Phillip L. Gianos

Matthew G. Jarvis

Scott J. Spitzer

Stephen J. Stambough

Keith O. Boyum