Outstanding Professor Dies at 84
Pioneering Medical Anthropologist Corinne Shear Wood Remembered as Dedicated Scholar, Feminist and Higher Education Advocate
June 23, 2009
By Mimi Ko Cruz
Corinne Shear Wood, a pioneering medical anthropologist, has died. The Cal State Fullerton Outstanding Professor for 1983-84, was 84.
Widely recognized for her research on malaria, leprosy in Pakistan and women's issues internationally, Wood died May 25 in her home in Santa Cruz. She had been battling Alzheimer's disease for nine years.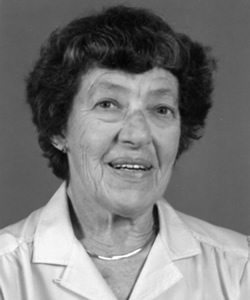 Corinne Shear Wood in 1984
A memorial is being planned for August in Long Beach. (UPDATE: A memorial will be held at 3 p.m., Aug. 15, in the CSUF Titan Student Union's Tuffree Room.)
Wood's daughter, Roberta Wood, said her mother's life "wove together her commitment to social justice, medical research and interest in all things human."
Born in Baltimore of Russian Jewish immigrant parents, Corinne Shear Wood "came of age politically during the early 1940s, when the U.S. joined the rest of the world in mobilizing against fascism," her daughter noted.
As a teenager, Wood worked in a shipyard in her hometown and, with the money she earned, she took night classes at Johns Hopkins University from 1948 to 1956. During that time, women were barred from enrolling at Johns Hopkins, except for extension courses on evenings and weekends.
Licensed as a medical technologist by the State Department of Health, she earned her bachelor's degree (1968) and doctorate (1973) in anthropology from UC Riverside. Her 24 years of lab work formed the basis for her dissertation on mosquitoes and malaria.
Her field research took her to Samoa, Pakistan and New Zealand. She worked with indigenous people of New Zealand to establish clinics within the Marae (villages), which combined Maori traditional healing with Western medicine. Her studies also included research on leprosy and non-compliance problems in Pakistan; interactions of traditional health concepts and modern medicine among Latino groups in Orange County; occupational safety and health and nutrition among children and reproductive women in Western Samoa; physiological factors in host selection by malaria vectors; and health conditions and medical delivery concerns and health surveys on three Indian reservations in California.
Wood's 1979 book, "Human Sickness and Health: A Bicultural View," became a popular introductory text in medical anthropology and followed the success of her pioneering research on malaria and mosquitoes. It was one of the first anthropology textbooks to focus on women's health issues.
Wood's concern for the health and welfare of her subjects prompted her to launch reforms in various health-care delivery systems.
"Dr. Wood's high ideals, growing out of her perseverance in the face of numerous obstacles, enabled her to contribute to the campus and to her students in a uniquely valuable way," said Thomas P. Klammer, dean of the College of Humanities and Social Sciences. "She brought to her teaching a combination of gritty life experience and superb academic achievement that none of her students will ever forget."
Wood was active in the Women's International League for Peace and Freedom, and with her husband, Bill Wood, the couple fought for peace and civil rights.
At Cal State Fullerton, Wood was active and supportive of the university's Women's Studies program, and her course — Women in Cross-Cultural Perspective — was one of the first women's studies classes on campus.
"Her field of research was different from what anyone else on campus was doing, and she was always ready to give guest lectures, seminars and public presentations to advance our understanding of her medical anthropology specialty," said Sandra Sutphen, emeritus professor of political science. "And, she was a staunchly dedicated feminist and frequently served as a 'conscience' for the rest of us."
Indeed, said Barbara McDowell, director of the university's Women's Center, who recalled Wood as a "mentor."
Wood's colleagues and students regarded her as an inspired and model teacher. She was affectionately known as "the Margaret Mead of CSUF" and "the Mother Theresa of CSUF."
When she was named Cal State Fullerton's Outstanding Professor, the highest honor bestowed on a faculty member, Wood was described as "one of those rare persons who combined research and teaching with relative ease."
Teaching was Wood's greatest love, her family said, adding that she advised relatives, comrades, students, co-workers and countless random strangers with whom she engaged in conversation wherever she was, from grocery lines to picket lines. She would tell them to enrich their lives by helping others. "Whatever you give, you get back ten times," she would say.
"Whenever she would talk to me or my friends, she would encourage us to go to school and get a Ph.D.," Wood granddaughter Jessica Marshall recalled. "It was such a treat to her to be able to learn. We found out when we were visiting her during her last days, when a local friend stopped by, that Grandma was enrolled in a lip-reading class. She had hearing aids but I guess she decided lip-reading would be something good to learn."
Whenever a youngster was around, Marshall said, Wood would "demand a computer lesson. If a Spanish speaker stopped by, she'd ask for an impromptu Spanish lesson. She passed that love of learning on to her children, grandchildren, nieces, nephews and just about anyone who spent time with her."
Today, one of her daughters, two of her nieces, and two of her grandchildren are teachers.
"When I became a teacher, she would often ask me about my students, the books I was reading and whether or not I enjoyed it," said Marshall, who teaches high school special education in New York. "She'd say, 'I really do miss teaching. Oh, I loved it.' I have a million grandma stories. She was feisty, funny and really interested in the world. We miss her greatly."
Wood is survived by: her children, Carl, Roberta, David and Gina Wood; sister Rochelle Levin; and 10 grandchildren.
She contributed articles, letters and regular financial support to the Peoples Weekly World. Her estate included a donation designated for coverage of health care issues in that publication. Donations in Wood's memory can be made to the Peoples Weekly World, 235 W. 23rd St., New York, NY 10011.