Convocation 2009
Addressing Challenges and Opportunities
The following is the text of President Milton A. Gordon's Sept. 15 Convocation address. An accompanying slideshow presentation is available for download.
Good morning everyone. I am pleased to be here this morning to begin Cal State Fullerton's 52nd year and the beginning of my 20th year as your president; to welcome new faculty, staff, administrators, and students for the first time; and to extend greetings to all of you who are returning members of the Titan family.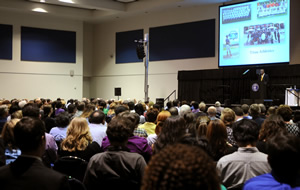 Administrators, faculty and staff members listen to last year's achievements, including those made by the Titan softball and baseball teams. Photo by Kelly Lacefield
The 2009-10 academic year promises to be an extremely challenging one, but as I reflect back on my past 19 years as president, we have had several budget reductions and challenges over those years and despite those budget reductions and challenges, each year we had significant achievements, and those achievements happened because of what our family of dedicated faculty, staff, administrators and students accomplished with the help and commitment shown to this university by its alumni, support group members, corporate, business and government leaders, and the people of the communities we serve.
Despite the fact that we have experienced several budget reductions in the past 19 years in each case our campus viewed those experiences as an opportunity to plan realistically for the future, assume greater responsibility for generating the resources needed for our progress, and to never, never compromise our values as those values relate to the excellence of our instructional, academic and student support programs.
We recognize that the mission of public universities is to provide access to quality postsecondary education to students with the goal of strengthening a democratic society, increasing economic competitiveness, and providing opportunities for personal and professional advancement. Higher education is seen as an equalizer of opportunities for all students — traditional and non-traditional — to enable them to achieve the American Dream.
In 2008-09 our campus had a budget reduction of $32 million but despite this significant reduction, Cal State Fullerton distinguished itself as a university where learning is preeminent by the following accomplishments: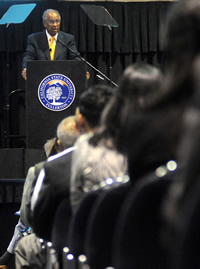 President Gordon gives the 2009 convocation address. Photo by Kelly Lacefield
The 2009 Commencement class numbered 11,000 graduates and candidates for graduation, the largest class in our University's history, and on the second day of commencement exercises the 200,000th student received their degree from Cal State Fullerton.
Fundraising for the Mihaylo College of Business and Economics exceeded its $50 million goal and accreditation was extended for the full-five years granted by the Association to Advance Collegiate Schools of Business. The college is among just 5 percent of business schools worldwide and 28 percent of those nationwide to have earned AACSB accreditation;
The university named its first-ever endowed chair, made possible by a $100,000 gift from the Orange County accounting firm of White, Nelson & Co.;
A $5 million gift to the College of the Arts was the second largest in the university's history and the university and the College of the Arts celebrated the naming of the Joseph Clayes III Performing Arts Center last spring;
We were awarded $666,000 from the Omnibus Appropriations Act of 2009 thanks to the support of alumnus Congressman Ed Royce and Congresswoman Loretta Sanchez;
Legends and Legacies honored 71 of the university's top donors; more than 8,000 guests attended Front & Center at the Honda Center; Vision and Visionaries honored five alumni and 1 honorable alumnus with the Distinguished Alumni Award;
Our Grants and Contracts awards increased by 14.6%;
The Student Recreation Center became the first university building awarded a Gold Leadership in Energy and Environmental design;
The Grand Central Art Center celebrated a decade of success in Santa Ana;
The Guardian Scholars Program received the National Fostering Educational Success Award for its commitment to foster youth and the program's pursuit of higher education;
Students' volunteer efforts earned the university a place on the U.S. President's Higher Education Community Service Honor Roll;
The Carnegie Foundation for the Advancement of Teaching honored Cal State Fullerton for its community-engagement activities. The university was among just 119 institutions nationwide to receive the Carnegie Foundation's prestigious 2008 award;
Talent Search which is currently in year four of a $899,800 grant in Anaheim, graduated 160 students at the end of the year; Upward Bound started their new $1.38 million, 4-year grant in Santa Ana to prepare high school students for postsecondary education; Gear Up is preparing over 1,600 Anaheim Union High School District students for college with a 6-year, $7.8 million grant; Educational Partnerships continued to receive $25,000 to implement year four of the 4-year Kids to College grant which brought nearly 7,000 sixth graders to campus; and
Year four of the Title V grant brought another year of successful partnership with our Colleges of Engineering and Computer Science and Natural Sciences and Mathematics to increase Latino student retention within the STEM fields;
We celebrated a host of faculty achievements in 2008-09, including Dr. Mohinder S. Grewal, Professor of Electrical Engineering, being named our Outstanding Professor for the year; Dr. Michael Loverude, Professor of Physics, was the recipient of the Carol Barnes Excellence in Teaching Award; Dr. Diana Guerin, Professor of Child & Adolescent Studies was selected as the recipient of the Faculty Leadership in Collegial Governance Award; Dr. Katherine Kantardjieff, Professor of Chemistry and Biochemistry, was honored with the California State University Andreoli Faculty Service Award for outstanding contributions to the development of biotechnology programs in the university system; and University Pollak Librarian Ronald Rodriguez was the recipient of the Arnulfo D. Trejo (Tray-Ho) Librarian of the Year Award from REFORMA.
Staff excellence was recognized when Brian Barnes, Dispatcher, University Police Department, Serena Cline, Senior Coordinator, New Student Programs, and Marcella Gilchrist, Tucker Wildlife Sanctuary, were named 2008-09 Outstanding Staff Employees.
Our student achievements last year were also impressive:
Cal State Fullerton theatre arts majors won the nation's top two collegiate acting awards, plus a major design prize presented at the 4lst annual Kennedy Center American College Theatre Festival;
Two geological science majors were the recipients of the National Association of Geoscience Teacher Scholarships for Field Study in 2009;
History major Jean Fiddler and Corinne Knight won the annual California State University Student Research Competition in the undergraduate and graduate categories respectively;
Hector Ramos received the 2008 William Randolph Hearst/CSU Trustees' award for outstanding achievement; and
Business administration major Sarah Gall was one of the inaugural 10 recipients of the national scholarship awarded by the Commercial Real Estate Women Network.
And our Athletics Program provided us with numerous examples of excellence in 2008-09. The softball team advanced to the NCAA Tournament for the fifth year in a row and 25th time in 28 seasons. Our baseball team for the 18th consecutive year was in the NCAA playoffs and advanced to the NCAA College World Series in Omaha for the seventh time to lead all schools in number of appearances at the NCAA College World Series. The 2009 Titans tied a school record by producing seven individuals who earned All-American honors at season's end.
The many accomplishments over the 2008-09 year which I have just cited are accomplishments of which we can all take pride because we functioned as a university family, committed to each other and to our belief in the basic strength of our mission. We focused on solving problems, working together collaboratively, caring for each other, and advancing university priorities and because we did this, we moved our university forward.
Hence, we begin our 52nd year with much success and certainly many challenges. However, I have every confidence in each of you and in our ability to work as a team to build on our successes and move Cal State Fullerton forward.
BUDGET 2009-10:
It is no secret that California is mired in the most severe recession since the Great Depression. Skyrocketing unemployment which currently stands at 12.1%, unprecedented home foreclosures, struggling business activity, and low consumer spending have resulted in a catastrophic fall in tax revenues.
This resulted in a state budget deficit of $26.3 billion which, in turn, resulted in the California State University's budget getting cut a record $584 million dollars, or 20 percent. This is the largest budget cut the CSU has ever received. The CSU Board of Trustees finalized a plan to address this $584 million budget cut to the CSU which included an additional 20 percent fee increase for students, furloughs for employees, and enrollment reductions for the next two years. The goal of these actions was to serve as many students as possible and to preserve as many jobs as possible under these very difficult circumstances for the CSU. Each of the 23 CSU campuses received their respective budget reductions which for our campus was a reduction of $38.7 million.
I call your attention to the following two slides:
The first slide shows the decline in the state allocation portion of our budget juxtaposed against the increase in costs to our students.
The second slide shows just the decline in our state allocation. As you can see, the decline in the state allocation from 2007-08 to 2009-10 was 24.4% while student fee revenue increased by 40% over this same period. The reductions shown on this slide do not include additional campus budget reductions taken to cover unfunded mandates, the structural deficit, campus priorities and campus loan obligations.
At Cal State Fullerton we have taken the following actions to address our $38.7 million budget reduction for the 2009-10 academic year:
We reduced admissions for fall 2009, admitting 1,200 fewer college-eligible first-time freshmen and community college transfers;
We cut summer school enrollment for 2009 by 38%, from 10,500 (Summer 2008) to 6,500 (Summer 2009);
We have instituted a salary and hiring freeze for non-essential positions, as well as travel and purchasing restrictions;
In accordance with the CSU plan to cut enrollment by 40,000 students over the next two years in an attempt to enroll only as many students for which the state provides funding, California State University, Fullerton has closed spring 2010 undergraduate admission, for an additional reduction of approximately 2,000 students in spring 2010.
In addition, we will continue to remain alert to other cost measures, as we continue the challenging task of aligning operating expenses with our diminished state funding.
These are extraordinarily difficult times. Just as the quality of everyone's lives are being impacted by the furloughs and budget reductions, the quality of the university and its mission to provide excellence in our instructional, academic and student support programs is also being impacted, and it must be each of our goal to work together to make the adjustments and identify the efficiencies we can make so we ensure the quality of the education experience for the 35,693 students currently with us.
Toward this end, the Academic Senate Executive Committee unanimously recommended to me that university receptions, dinners, and celebrations, etc. for the 2009-10 and 2010-11 academic years be cut back as much as possible due to the state's budget crisis.
While it is true that there are many wonderful university events that recognize student, faculty, staff achievements and contribute to the overall morale and mission of our university as well as events that recognize donors, the Academic Senate Executive Committee members' feel and I concur that "continuing business as usual" is not appropriate during this fiscal crisis in the state. Therefore, I have made the decision that the all-university holiday open house originally scheduled for Friday, December 11, 2009 will be cancelled and will not be held in December 2010 as well. In addition, the annual Academic Senate end of the year BBQ will not be held in May 2010 or May 2011.
In addition, there is a high probability that I may have to cancel the 2010 Concert Under the Stars scheduled for Friday, September 10, 2010, but I will not make the final decision regarding next year's Concert until I see the Governor's proposed budget for 2010-11 and the action of the CSU Board of Trustees' as it relates to the Governor's proposed budget for 2010-11. Cancelling the Concert Under the Stars is a very difficult decision because the Concert Under the Stars has been a tradition on this campus for 26 years and is one of our most enjoyable all-university events that allows faculty, staff, students, parents, alumni, university support group members and community friends to mingle and appreciate that we are all members of the Titan family.
I am asking the vice presidents, college deans, department chairs and everyone on campus to look carefully at the meetings and events normally held in your respective units to determine if some can be cancelled, reduced in cost, combined with other events, or changes made to the event to reduce the costs, etc. during these very difficult financial times.
I am very proud and encouraged by the campus response to this difficult budget situation. There has been a high level of cooperation among the faculty, staff, and administrators working daily with the challenges of meeting the needs of our students and preserving the quality of our instructional programs in spite of the decreased budget. I particularly want to thank the Academic Senate Executive Committee and the Planning, Resource and Budget Committee that has worked collegially, collaboratively and productively through these very difficult months including throughout the summer to make recommendations to me on how we handle this significant budget reduction for our campus.
We have a challenging two years ahead of us and the budget reductions and furloughs will put a strain on all of us. Despite these extraordinarily difficult budget times, I want to share with you some current information about the University and the goals that we have set for the 2009-10 academic year, and I will also highlight some of the issues we need to focus on to move our university forward and to plan for our long-term future.
Access and Academic Quality:
Our overarching priority is to continue to focus on our core mission to provide access to a high quality education for the students of our service region and ensure that we continue to provide the core academic and student support programs and services to facilitate their graduation in order to meet the business and societal needs of the region, the state and the global community for the 21st century.
Enrollment:
I want to focus for a moment on our enrollment. As most of you know, enrollment growth in the CSU and on our campus determines to a large extent our budget and the allocation of new, state-funded faculty positions. In the fall 2008, Cal State Fullerton had 36,996 students enrolled. Due to projected significant budget reductions as a result of the state of California's $26.3 billion deficit for 2009-10, we were forced to close admission early which had the effect of our admitting this fall a smaller class than in previous years.
On the first day of classes on August 22 of this year, we welcomed 35,693 students:
4,051 first-time freshmen;
3,989 new and returning transfer students;
1,915 new graduate and second BA students; and
25,621 continuing students; for a total of
35,693 students on the opening day of classes.
2,760 of those students are enrolled for courses at our CSUF — Irvine campus.
1,100 of those students enrolled are new and returning international students from 79 different countries.
We also welcomed 15 new President's Scholars, and 13 new Guardian Scholars.
We anticipate by census date to have a headcount of approximately 36,100 students.
I call your attention to the charts prepared by Ed Sullivan, Acting Assistant Vice President for Institutional Research and Analytical Studies which provide an overview of our Fall 2009 enrollment.
The first chart shows our Fall Application Comparisons. We received 50,808 applications for admission to the University which clearly tells us that students want to come to Cal State Fullerton because of the excellence of our academic programs and because of our success in graduating students thanks to the strong academic and student support programs we offer. Of the 50,808 applicants, we admitted 26,196 and 10,089 (38%) of these newly admitted students enrolled.
The second chart highlights our Fall 2009 Student Body Composition.
The third chart shows the Fall 2009 Preliminary Ethnic Distribution of our student body. As you look at this chart you should note that beginning in Fall 2009 applicants were able to identify themselves as multi-racial. Please note that the Fall 2008 percentages are shown in parentheses on this chart.
For Fall 2009, as you can see, our Student Body Ethnic distribution is:
American Indian/Alaska Native: 0.41%
Asian/Pacific Islander: 21.02%
Black: 3.00%
Hispanic: 30.59%
White: 30.89%
Two or More Races — Non-Hispanic: 1.41%
Non-Resident Alien: 4.62%
Unknown or declined to state: 8.05%
As you can see, our preliminary Fall 2009 students are 58.43% minority compared to 54% in Fall 2008.
The fourth chart shows Fall 2009 First-time Freshman Ethnic Distribution. For Fall 2009, as you can see, our First-Time Freshman Ethnic Distribution is:
American Indian/Alaska Native: 0.15%
Asian/Pacific Islander: 19.79%
Black: 2.36%
Hispanic: 43.58%
White: 24.36%
Two or more races — Non-Hispanic: 4.30%
Non-Resident Alien: 1.96%
Unknown or declined to state: 3.50%
The fifth chart shows the High School GPA, SAT, and Eligiblity Index Averages of our First-time Freshmen by Admissions Region.
The sixth chart shows the Country of Citizenship of our International Visa Students. As you can see, for undergraduate students we receive the most international students from Japan and South Korea, for our international graduate/postbaccalaureate students the majority of the students are from India.
I want to mention to you our success in retaining students and ultimately enabling them to earn their degrees. Based on our IPEDS report tracking Fall 2002 First-time Freshman 6 Year Graduation Rate Compared to Seven Large CSU Campuses and Systemwide, Cal State Fullerton graduates 49% of those First-Time Freshman admitted in Fall 2002 and the CSU Eventual Graduation Rate is 58.6% for our campus.
The seventh chart shows the Degrees Awarded in 2008-09:
Bachelor's Degrees Awarded: 6,580 (82%)
Masters Degrees Awarded: 1,421 (18%)
Total Degrees Awarded: 8,001
The eighth chart shows the Ethnic Distribution of 2008-09 Bachelor's Degree Recipients (6,580 degrees) and the ninth chart shows the Ethnic Distribution of 2008-09 Master's Degree Recipients (1,421 degrees).
California's population is projected to continue to grow to an estimated 43 million by 2020, with most of the increase in the Central Valley and the southern part of the State and among Latino populations. It is for this reason that one of our key priorities must continue to be to provide access to a high quality education for the residents of our service region.
Academic Quality:
The key to providing a high quality education for our students is to invest in faculty excellence and plan for the future.
We are fortunate at Cal State Fullerton to have nationally and internationally prominent faculty who not only excel in teaching, research and scholarly activities, and service to the university and the communities we serve, but who are also outstanding mentors for our students both in their classrooms, studios and laboratories, as well as outside the classroom by involving them in research and by serving as advisors to department clubs and university organizations.
The primary key to providing excellence in academic degree programs and creating innovative new degree programs to meet the business and societal needs of the region is the recruitment and retention of excellent faculty. As you can see from the next chart on our full-time faculty, we currently have a total of 772 tenured/tenure track faculty and 136 full-time lecturers.
In 2005, I set the goal to conduct 100 searches over the next five years and the university committed $1.3 million to embark on these searches over the five years. With an estimated success rate of 80% on our searches, we hoped to hire at least 80 new faculty members per year with the result to be an approximate net increase of 400-500 new tenure/tenure-track faculty members at the end of five years. In the past four years, we have hired a total of 343 new tenured/tenure track faculty since 2005. You will note that due to the budget climate for the past two years in California, our hiring success has slowed down somewhat but we still welcomed 43 new tenure/tenure track faculty to our campus this fall at a time when many of our sister campuses have no new faculty.
Therefore, one of my key goals for 2009-10 in order to maintain the excellence of our academic programs is to:
Extend our goal of conducting 100 new tenure-track faculty searches to six years in the hope of reaching our original goal of hiring 400-500 new tenure track faculty by the end of those six years.
There is no other element that contributes more to the excellence of a university than the excellence of the faculty.
Another essential element in the academic quality of a university is a diverse intellectual community. When you look at the ethnic distribution of our current students and consider that it is projected that the college-age population in the future will be increasingly made up of underrepresented group members, one can understand why it is important to have faculty and staff who can serve as role models for these students. The only way to develop and sustain that diversity is by providing access to the full range of people in the society that supports that institution. That is why another key goal is:
To continue our efforts to recruit and retain an ethnically and gender diverse faculty and staff that would approximate the ethnic and gender diversity of our student body.
I call your attention to the following two charts providing information on our Fall 2008 Tenured/Tenure Track Faculty Distribution of Ethnicity and our Fall 2008 Tenured/Tenure Track Faculty by Distribution of Gender.
We must continue to move forward with our plan to recruit and retain an ethnically and gender diverse faculty and staff and maintain our firm commitment to this goal.
Another two continuing key priorities are to:
Continue to support our newly hired faculty by providing the needed support infrastructures and resources that will enable them to move through the tenure and promotion process and be successful as teachers and scholars at Cal State Fullerton;
and
Continue our commitment to support junior, mid-level and senior faculty professional development.
To assist us in meeting these two key priorities, we plan to allocate $2,636,179 to Faculty Support for 2009-10 as set forth on the following chart:
Faculty Support for 2009-10
Recruitment Costs $ 300,000
Moving Costs $ 135,054
Untenured Faculty Development $ 101,000
Course Release time (w/benefits) $ 775,185
Faculty Start Up $ 943,775
Summer and Intersession Research Support (w/benefits) $ 270,365
New Faculty Office Furniture $ 73,800
International Travel $ 37,000
Total: $2,636,179
Sabbatical Leaves:
As I have indicated for the past two years, our mid-level and senior faculty members need the opportunity to further their scholarly research and renew themselves through sabbatical leaves. This year we have established funds in the amount of $626,354 for up to 38 term sabbaticals. I will wait until I receive recommendations from the Sabbatical Leaves Committee before making a final decision.
Professional Development for Faculty and Staff:
Despite significant budget reductions, another key priority is to continue to provide opportunities for enhanced professional development for our faculty and staff via the Faculty Development Center, University Business Institute, and the Leadership Development Program.
Faculty Development Center:
Our Faculty Development Center will continue to offer a comprehensive program of support for all instructional faculty members across a broad spectrum of professional activities. A new program beginning this fall is the result of the collaboration between the Faculty Development Center and University Extended Education to offer a program known as Online Academic Strategies and Instructional Support (OASIS). OASIS will offer a one-stop instructional design, multi-media production and IT support to help faculty develop, deliver, and maintain their online courses.
University Business Institute:
The University Business Institute (UBI) was established last year in response to the ever increasing complexity of managing the University's financial and human resources and provides academic and administrative personnel whose duties include fiscal and personnel management with the knowledge and skills necessary to fulfill their stewardship and fiduciary responsibilities.
During 2008-09, more than 100 academic and administrative leaders attended a one-day forum on Integrating Budgeting and Planning designed to create broad understanding and awareness of this timely issue and improve planning and decision-making. In addition, more than 300 staff, faculty, department chairs, and managers attended one of 28 workshops providing skill enhancement in areas such as funds and account management, personnel and pay management, employee hiring, and procurement and asset management.
During fall 2009, 25 University Business Institute workshops are currently scheduled with an additional 25 anticipated for spring 2010.
Leadership Development Program:
Thirty-one individuals representing all divisions of the university participated as a cohort group in the university's first Leadership Development Program during 2008-09. Participants included department chairs, associate deans, first line managers and supervisors, and program directors.
The seven-month program included full-day workshops, self and peer leadership assessments, and the opportunity to work in small groups on President's Administrative Board-assigned projects. In May 2009, groups presented their recommendations to PAB regarding Training and Development of Student Assistants, New Digital Media, Marketing and Sponsorship, and Sustainability. PAB was extremely pleased and impressed with the recommendations and the quality of the presentations. Since that time, a number of the recommendations have been adopted and are in the process of being implemented.
Group reports and recommendations have been posted on the Leadership Development Program webpage.
The Leadership Development Program will again be offered in 2009-10 and selection of 2009-10 participants is underway. In recognition of the university's current fiscal challenges and workload demands, the program has been modified slightly to include fewer hours of formal workshop instruction and PAB-assigned projects that are smaller in scope.
Student Support and Development:
Another very important priority is that we ensure that staffing in the key areas within student affairs is sufficient to meet the needs of our student population and that high quality student leadership and development programs and services continue to be offered despite the 2009-10 budget reductions. Goals for 2009-10 for Student Affairs include some of the following:
Continue divisional efforts in the assessment of student learning outcomes.
Provide opportunities for students to learn from external communities through internships, cooperative education, community service and other field activities.
Continue to provide for special projects (Title V Grants, CSU/Edison Scholarship Program, Project MISS, TRIO Programs, Gear Up, CSUF Special Games, HEEF, TELACU, etc.) that enhance retention and graduation of students of diverse backgrounds.
Generate increased private giving to support student services programs.
Research and External Funding:
The benefits of funded research programs are enormous and can benefit all aspects of the university — students, faculty, staff, alumni, and the community. One of my key priorities for 2009-10 and beyond is to:
Increase support for research and other external funding activities by improving and enhancing the infrastructures that support grant and contract development, submissions and award management.
Last year to make progress in this area we:
Established the Office of Associate Vice President of Graduate Programs & Research;
Relocated the Office of Grants and Contract to College Park to facilitate closer collaboration with the post-award offices of Sponsored Projects;
Hired a permanent Director of the Office of Sponsored Projects;
Established the Office of University Research,
Initiatives and Partnerships to facilitate development of institutional grant proposals.
As a result of these changes, we accomplished the following in 2008-09:
External Funding Accomplishments 2008-09:
201 Grant Applications Submitted

—$21.6 Million Awarded

$19.6 Million Awarded from granting agencies
$2.0 Million from external grant partners

—$25 Million in Submissions for American Recovery and Reinvestment Act (ARRA) Funds
—$ 3.3 Million in American Recovery and Reinvestment Act Funds secured to date for 2009-10 and beyond.
Support for Increasing External Funds in 2009-10:
Due to the current budget crisis and the need to raise additional revenue, this year I indicated that the $600,000 I set aside each year for University Mission and Goals Initiatives would focus on proposals that support or enhance our ability to attract external funds that support research, creative activities and other university programs. This approach is consistent with the Academic Senate Executive Committee's request for additional strategies and funding to support research.
Support for Research and External Funding for 2009-10 include the following:
$600,000 for Mission and Goals Initiatives focused on raising external funds to support or enhance our ability to attract external funds that support research, creative activities and other university programs;
Expansion of Grants and Contracts staff by hiring one full-time submissions coordinator;
Hiring a full-time grant writer through the Office of University Research, Initiatives and Partnerships.
Government Relations:
Federal:
The campus' federal relations program continues to attract much-needed resources for campus research and programs with support from our members of Congress.
This year, FY 2009, more than $2.2 million has been awarded to Cal State Fullerton in congressionally-directed funding including:
$1,600,000 in continuation funding for nutritional and exercise research on Prader-Willi Syndrome jointly conducted by Cal State Fullerton's College of Health and Human Development and the University of Florida's College of Medicine;
$238,000 to launch a math and science collaborative between the Colleges of Natural Sciences and Mathematics and Education, to enhance the quality of math and science teachers;
$238,000 to develop a Vietnamese language and culture bachelor's degree program, minor and international business sequence.
$190,000 to continue the support of the Center for the Promotion of Healthy Lifestyles and Obesity Prevention in programs that serve low-income children in south Fullerton and Santa Ana, where obesity rates and risks for diabetes are among the highest in the nation.
We thank our alumnus, Congressman Ed Royce, for the Prader-Willi syndrome, math/science and Vietnamese language funding and Congresswoman Loretta Sanchez for the obesity prevention support.
State Relations & Advocacy:
The goal for 2009-10 for our State Relations and Advocacy Office is to continue to position Cal State Fullerton positively with our legislative delegation and to advance the CSU Board of Trustees' legislative agenda and to continue to develop and distribute critical CSU eAdvocacy messages in support of the CSU budget needs for the future. In addition, our State Relations and Advocacy Office is leading and coordinating the program planning for the Achievement Gap Summit on our campus scheduled for October 2, 2009.
Community Relations:
Likewise, our Community Relations Office's goal for this year is to support the next phase of the North Orange County Economic Development Initiative, the CSUF-County of Orange Archaeo-Paleo Stewardship Agreement, and to maintain and enhance our strong and positive working relationships with the various municipal and county elected, appointed and staff officials in Orange County through partnerships, sponsorships, etc.
Campus-wide Planning for the Future of CSUF:
In difficult budget times planning becomes more important than ever. Last year, I appointed Dr. Michael Parker, Interim Director of University Planning and charged him with the task of institutionalizing and coordinating planning across the University. He has the responsibility for working with the President's Administrative Board, the Academic Senate, the University Planning Committee, the WASC Steering Committee and Task Forces, the Planning, Resource and Budget Committee, and the divisions of the University to develop university-wide priorities for the future of Cal State Fullerton so those priorities will ultimately be aligned with our budget allocations.
We need to be especially clear about how we implement our mission and goals in times of scarcity. We must ensure that every office within every division is aligned not only with the University's mission and goals, but also fiscally, with business processes, and with appropriate staff to ensure that our services are provided to maximum effect.
At the same time we are preparing for our WASC review in March 2010 which also in part focuses upon our strategic planning efforts. In fact, three WASC task forces are focused upon different aspects of campus planning in addition to our regular efforts. Through the execution of our plans we will continue to provide access with quality, provide an educated citizenry and a professional workforce for California's tomorrow.
Continue to Advance the University's Capital Program:
Another important aspect of planning is for the University to determine what land acquisition and capital development projects it needs in order to accommodate enrollment growth projected for the future, meet the needs of our academic programs both current and planned for in the future, while providing state-of-the-art facilities and information technologies in order to provide an excellent learning environment for our students, for our faculty in which to teach and pursue scholarly/creative activities, and for our staff to be successful.
In order to accommodate the University's academic mission for the future and meet the rapidly expanding student demand for a Cal State Fullerton education, key priorities under way or recently completed include:
A new $10.1 million

University Police facility

to ensure the safety of our students, faculty and staff and our facilities;

Student Housing, Phase III

. The $144 million project currently under construction will provide a 1,000 bed new student housing facility and a dining facility with capacity to seat up to 600 students. The new facility is scheduled to open in Fall 2011.
The $24 million

Eastside Parking Structure

began construction this summer and when completed will provide parking capacity for up to 1,500 vehicles.
The anticipated groundbreaking for the new $9.2 million student funded

Children's Center

is scheduled for this coming November and when completed will accommodate up to 240 children of our students, faculty and staff.

CSUF — Irvine

:
Last year we were able to extend the lease for the Irvine campus to August 2010. A representative task force has been formed to report this fall on the vision and mission for the campus to assist in determining the extent of university funding and other commitments for the coming fiscal year and beyond. Assuming our lease will not be renewed, a decision will need to be made regarding a replacement facility, its size, its location and funds required.
Acquisition of Property Close to Main Campus:

Hope International University

:
We are continuing our negotiations to acquire property in close proximity to the campus. The campus has been in active discussions regarding the possible purchase of the Hope International University site of approximately eleven acres. Final negotiations can proceed when Hope International University is able to acquire a new site for its programs. Acquisition of the Hope property together with College Park would round out the extension of the campus south of Nutwood and offer the possibility for imaginative development for the future. This is an opportunity that will not be repeated.
Information Technology and the Future of CSUF:
We must continue the major advances we have made in information technology so we can ensure that we are providing our students with the technological skills necessary to succeed in the world of the future and that we continue to use these technologies to improve the university's administrative effectiveness, efficiencies and service both on campus and to the public we serve. Some of the key goals for information technology this year include the following:
To continue to improve equipment and software for campus users;
Partner with Academic Affairs and Student Affairs to continue providing academic technology services to faculty and students;
Explore next steps in Learning Management System and partnering with system-wide projects;
Continued enhancements to the Information and Learning Commons including expansion into an instructional room and a computer lab and complete two year plan with Library;
Refine the Business Continuity & Disaster Recovery Plan for the campus;
Lead the campus on implementation of information security policies and accessible technologies and practices;
Develop a multi-year plan for sustainability in InformationTechnology.
I encourage the Information Technology Senate Committee and the Executive Committee of the Senate to work with Chris Manriquez, Acting Chief Information Technology Officer, now that Vice President Amir Dabirian has been appointed Assistant Vice Chancellor of Information Technology Services and Chief Information Officer at the Chancellor's Office, to continue to be actively involved in the implementation of our campus' Information Technology Strategic Plan.
Strategic Communications, Public Affairs, Alumni Relations:
During these very difficult budget times, I believe it is incumbent on me as president to communicate as frequently and as often as I can with everyone involved with the University, both internally as well as with the community at large, regarding all issues impacting Cal State Fullerton. I will use all the various communication methods available including holding all-university meetings, email, video messages, placing information on the faculty, staff and student portals, posting information on our campus budget webpage, and eAdvocacy messages to our alumni and community support members, so that everyone has the most current information as it relates to the budget and other issues impacting our campus community.
Our Strategic Communications Office and our Office of Public Affairs will continue to support our fund development needs as well as advocacy and other efforts campus-wide. A year-long planning effort conducted in tandem with the planning work of the CSF Philanthropic Foundation yielded an understanding of the university's aspirational positioning, which is essential in guiding message development and informing design. In 2009-10, complete implementation of the university's new visual image package including a new Titan image for our Athletics program will take place.
Efforts to strengthen and expand our engagement in social media with sites such as Facebook, Twitter, and LinkedIn will continue, informed in part by the ongoing work of a cross-campus, multi-constituency working group on social media that meets to facilitate collaboration and coordination, and adopt best practices. Working groups with similar goals have been established for mass email efforts, web development and strategic partnerships. The work of our communication professionals is even more essential during these difficult times, as is the importance of such communication vehicles as our widely lauded signature publication, Titan Magazine, in reaching key audiences with messages designed to advance the university.
Alumni Relations will focus on continued chapter growth as well as on current student and recent alumni activities that enhance the student and graduate experience. A newly invigorated Alumni Board of Directors is actively participating in Advancement-wide planning to enhance coordination of on and off campus communities.
External Support for the University and Its Programs:
With the significant current budget reductions for 2009-10 and with 2010-11 projected to be as challenging, we know that we cannot depend on state funding to provide the resources we need to reach the many goals we have set for our University. If we are to meet the current challenges and take advantage of the opportunities that lie ahead, we must rely on private support.
Coming off the best fundraising year in the university's history in terms of cash receipts — $14.6 million — we are now in what is perhaps the most challenging fundraising environment that we have ever encountered. A cash goal of $9.36 million has been set for 2009-10 and while it represents a somewhat reduced goal over last year, the University Advancement team is planning for the future to ensure that private financial support remains strong and, more importantly that we work now to look beyond the immediate economic downturn and focus advancement efforts better than ever before to make our fundraising, communications, and outreach efforts as effective as they can be.
The CSF Philanthropic Foundation Board, which launched a planning process earlier this year that culminated in the adoption of a strategic fundraising roadmap to guide its efforts, has embraced eight overarching themes that speak to nearly two hundred longer-term high-priority institutional goals. Most recently, six specific projects derived from those eight themes were identified and will be pursued by the board over the next three years. Specialized teams will be created for each initiative, drawing upon the skills and connections of board members, on-campus advancement professionals, and project leads from across campus.
Goals for University Advancement for 2009-10 include some of the following:
Achieve cash receipts of $9.36 million;
Achieve endowment market value of $20 million;
Achieve donor retention and acquisition goals;
Increase the submission of proposals to corporations and foundations for philanthropic gifts;
Increase cultivation and solicitation efforts with prospects for planned gifts;
Continue refining and implementing the CSF Philanthropic Foundation Board strategic plan;
Implement a new campus identity and ensure consistent application in all university communications and publications;
We as a university community have much of which to be proud.
We are ranked 8th among "Top Public Universities — Master's Institutions in the West by U.S. News & World Report rankings.
For the second consecutive year, Diverse Issues in Higher Education ranks Cal State Fullerton sixth in the nation for the number of bachelor's degrees awarded to underrepresented students.
Hispanic Outlook in Higher Education lists Cal State Fullerton as second in the state and sixth in the nation for the number of bachelor's degrees awarded to Hispanic students.
Steven G. Mihaylo College of Business and Economics is the state's largest accredited business college and is included in the 2009 edition of Princeton's Review's Best 296 Business Schools.
This didn't take place by happenstance, it took place because of this institution's long-standing commitment to faculty and staff excellence, excellence in academic and student-support programs, our commitment to collegial governance, open communication and information-based decision-making, and university-wide planning efforts that has guided our direction setting, resource allocation, formed the foundation of our WASC self-studies, and enabled California State University, Fullerton to achieve its mission and goals and made it possible for more than 200,000 students to earn their degrees and fulfill their dreams.
I want to personally express my gratitude to each and every member of the campus community for your dedication to the University's mission and goals of providing a quality education for our students as well as recognize the significant personal sacrifice each of you have made in terms of lost wages as a result of being furloughed throughout this academic year.
Even as we look ahead to challenging budget years we must not forget our accomplishments of the past and our vision for the future. And we must remember that it is our Titan family — the faculty, staff, students, alumni, and community friends — who are our greatest strengths. Let us remember that it is always the people — you — not the plans alone that produce success.
With all of your help, I know that the years ahead will hold a bright future for our university and its graduates.
Thank you.