Collections on Show
Contemporary Work Exhibited Through Dec. 18 at Student Union
December 15, 2009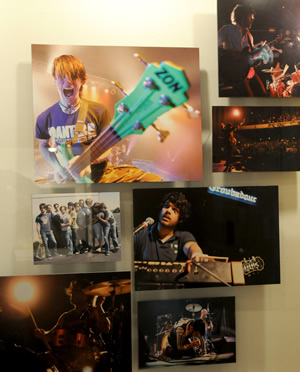 One of the pieces of art displayed in the Center Gallery of the Titan Student Union. The piece, created by Lisa Huey, is part of the exhibit "Chromatic: A Collection of Octaves and Light." Photo by Kelly Lacefield
Exhibits on display through Dec. 18 in the Titan Student Union showcase the contemporary artwork of Lisa Huey and Larissa Hernandez.
Displayed in the Center Gallery is Lisa Huey's "Chromatic: A Collection of Octaves and Light," a collection of photos, set lists and ticket stubs from bands such as Reel Big Fish, Taking Back Sunday, Sugarcult, Save Ferris and the Living End.
"This is a collection of my work — both on stage and off, down the street and across the ocean — that I've captured over the years," says Huey.
Hernandez's exhibit, "100 Themes, 100 Pictures," is displayed in the TSU Plaza Gallery near the Underground Fireside Lounge. Larissa's work was inspired by an online art community, deviantart.com, which challenges artists to create a piece based on 100 themes. Some of these themes include "love," "lost hope" and "memory." Larissa describes her collection as "the most challenging test of my creativity."
For more information, visit tsu.fullerton.edu or contact Jazmine Blackman at 657-278-5869.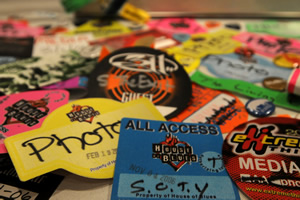 Another example of Lisa Huey's art. Photo by Kelly Lacefield