Government: Problem or Solution?
Speakers Pose Differing Views on Federal Intervention
October 20, 2009
By Debra Cano Ramos and Mimi Ko Cruz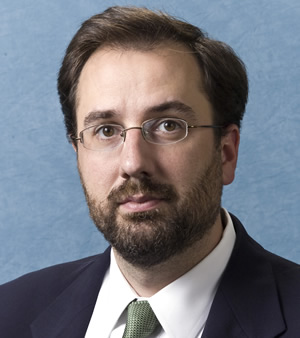 Robert Alt
"Is Government the Problem or the Solution?" was the focus two recent Constitution Week presentations held at Cal State Fullerton — one by Robert Alt, senior legal fellow and deputy director of the Center for Legal and Judicial Studies at the Heritage Foundation in Washington, D.C., and the other by Harold Meyerson, political columnist and editor of the American Prospect.
Alt Argument
Moderated by Keith Boyum, Cal State Fullerton emeritus professor of political science, Alt spoke about the Constitution's ties to government and its role in creating today's problems.
An expert in constitutional law, Alt explained that fundamentally, the U.S. Constitution limits the power of government and provides checks and balances to protect rights and prevent abuses.
Alt contended that the Constitution should be narrowly interpreted as to the powers assigned to the national government in Washington. He spoke about the "enumerated" powers, set out in Article One, which describes congressional powers. Alt argued that a reasonably plain reading of the words in the Constitution offers only a definitely limited set of things that Congress — and the rest of the national government — can do.
Harold Meyerson
He also discussed how the national government, such as some regulatory agencies, could overstep constitutional boundaries, violating basic rights the Constitution's framers had in mind. Alt gave anecdotal accounts of enforcement actions taken by regulatory agencies that featured bad prosecutorial behavior, adversely affecting people's rights and livelihoods.
Alt's view is to leave much or most regulating to states, and wherever regulations are promulgated, to avoid as far as possible, the use of criminal penalties. The alternative, using civil punishments, such as fines, is better suited to preserving individual liberty.
Finally, Boyum summed up Alt's presentation, reiterating that Alt believes it would be better to do things at the state or local level for a couple of reasons: The first is that if some regulations or laws are promulgated at the state or local levels, the other states or the other cities would not be affected. Again, this maximizes liberty, defining liberty as freedom from government mandate, Boyum noted.
The second is that Alt asserts that changing local or state regulations or laws is easier than changing national laws and regulations.
Meyerson Argument
Meyerson presented the opposite view.
Introduced by Raphael J. Sonenshein, professor of political science and chair of the university's Division of Politics, Administration and Justice, Meyerson said government exists for four reasons:
cleaning up capitalism's messes;
regulation;
security; and
industrial policy.
Meyerson said recovery from the Great Depression 80 years ago required government intervention, and the country's current financial crisis required a bailout as well. He explained Keynesian economics, a macroeconomic theory based on British economist John Maynard Keynes, that advocates a mixed economy, mostly private sector but with a heavy government and public sector role.
"I think government will continue to step in and I think it should," Meyerson said.
He spoke about various possible interventions — such as college loan program, manufacturing and health care reform and strengthening social security, retirement programs and public education — that he said could help the country.
"Maybe we need to champion some industries," Meyerson said. "Other countries are way ahead of us. China, for example, is moving heaven and Earth to be the world producer of solar energy."
More from Meyerson and Alt
Meyerson is a columnist for the Washington Post, as well as executive editor of The American Prospect. From 1989 through 2001, Meyerson was executive editor and chief political columnist for the L.A. Weekly. His articles on politics, labor, the economy, foreign policy and American culture have appeared in numerous publications. He is the author of "Who Put the Rainbow in the Wizard of Oz?" a critical biography of Broadway lyricist Yip Harburg, and his articles have been republished in several books. In 1987-88, he was a regular commentator in the Los Angeles Herald-Examiner, and from the late 1970s through the mid-1980s he was a political consultant for a range of progressive causes and candidates. To read his columns, go to www.washingtonpost.com and www.prospect.org.
Alt taught national security law, criminal law and legislation at Case Western University School of Law in Cleveland. He is a graduate of the University of Chicago Law School and earned a bachelor's degree in political science and philosophy from Azusa Pacific University. For more about Alt, visit www.heritage.org/about/staff/robertalt.cfm.