Social Justice Advocate
History Major Empowered to Change the World
April 14, 2009
By Debra Cano Ramos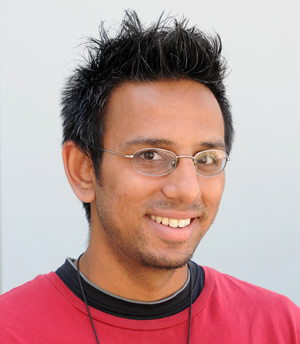 Chirag Gunvantbhai Bhakta
Age: 21
Residence: Anaheim
Favorite Book: "Discourse on Colonialism" by Aimé Césaire
Favorite Music: Rap/hip-hop
Favorite Movie: Gandhi
Favorite Pastimes: Working out, painting, baseball, television, saving the world
Social Justice Summit website
Cal State Fullerton history major Chirag Gunvantbhai Bhakta wants to save the world.
Bhakta knows he is no superhero, but that hasn't stopped him from consciously trying to make a difference on this planet.
His career goal is to become a high school history teacher so he can inspire young students; he is involved in social issues to be an active voice for change.
Bhakta, whose Indian parents immigrated to America in 1984, also wants to teach English to immigrants.
"I want to teach kids who come from lower-income families — to spread knowledge and help them to develop character," Bhakta said. "I want to help kids as much as I can. Being a teacher is the ultimate altruism."
Bhakta plans to complete his studies in the fall — and be the first in his family to earn a college degree — then enroll in the College of Education's teacher credential program. The college senior shares why he is an advocate for a socially just world as a project director for the April 18 Social Justice Summit on campus.
Themed "Resist Ignorance, Provoke Thought, Incite Change," the daylong summit is open to college students and community members and gives the opportunity to learn about how they can be activists for a better world.
Q. What is the purpose of the Social Justice Summit, and why are you involved?
A. The purpose of the Social Justice Summit is to inform and educate students and community members about local and global issues concerning humanity. We provide attendees with resources on how to aid those in need, as well as how they can individually change aspects in their lives to live a socially conscious lifestyle.
I am involved for the simple reason that I believe that the first step in changing the world is to be aware of the problems in the world. One person can only do so much. Only with the power of the general society can real change manifest.
Q. What is your role in the event planning effort?
A. My personal role began with joining the planning committee and helping to organize the workshops and keynote speakers, as well as develop the themes. I decided to take on a more leading role and became a project director, overseeing the volunteer and marketing committees. I helped recruit and organize all the volunteers for the day of the summit — more than 100 students have stepped up to volunteer. The marketing committee is in charge of promoting the event throughout the campus and the local community.
Q. Why should college students and community members attend?
A. I believe they should attend because of the simple fact that people need to be made aware of issues concerning poverty, global warming, hunger, globalization and overall human inequality and suffering. Learning and being aware of the atrocities plaguing this world is the least that one can do.
Q. Why is it important to get involved in social action and change?
A. No matter who you are, issues like poverty, hunger, global warming and genocide affect you. You may not be the one being killed or starving, but in this ever-globalizing world, you cannot escape it indirectly.
Simplifying it from any existential ideas of human compassion, social change has a massive economic aspect to it. Poverty, for example, afflicts many developing countries throughout the world and developed countries give hundreds of millions of dollars in humanitarian aid to help. The money comes from the taxpayers of the developed country.
If we work towards lifting people out of poverty and starvation, and help those countries develop, they will not be in need of as much, or perhaps even any, foreign humanitarian aid. Therefore, the governments that previously gave could now make better use of those funds. We in the developed world have an explicit economic interest in lifting individuals and countries out of the deteriorating circumstances they are in, and no one can argue with those numbers.
Q. Why are you inspired to promote social change?
A. Ever since my parents came to America from India, they have been in a constant financial struggle. Their fortunes remain engulfed in turmoil, and we have had to live in a neighborhood where others reside in similar and ever-increasingly despairing situations.
Seeing the world around me, and living it myself, these circumstances have pushed me towards not accepting it as a fact of life and the way the world works. I've seen people work hard every day of their lives and continue to find paying the bills a grave difficulty. As a human being, I could not stand back and not do anything about this. The world is filled with such vast injustices that we cannot ignore. We are brothers and sisters alike, it makes no moral sense to allow such blatant crimes against humanity occur against those who are our kin.
Q. How has your involvement with the summit helped you toward achieving your college and career goals?
A. Being apart of the Social Justice Summit has taught me invaluable leadership and planning skills. Planning an event so large in scope during the school year also has given me the ability to be able to handle many vastly important and vital commitments at the same time. This will be of great aid when I am teaching in the classroom.