Advocating for Nursing
Nurse Wins Outstanding Graduate Student Award for Dedication to Her Field
May 19, 2009
By Mimi Ko Cruz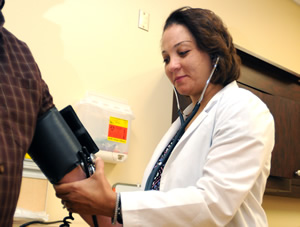 Catherine M. Solórzano
Nickname: Cat
Age: 43
School: Cal State Fullerton
Degree: Master of Science in Nursing
Expected graduation date: August 2009
Residence: Riverside
Family: Husband, Luis, and daughter, Jasmine
Affiliations: Member of American Psychiatric Nurses Association, Association of California Nurse Leaders, Sigma Theta Tau International, Phi Kappa Phi and Gold Key honor societies and Cal State Fullerton's Nursing and International student associations
Hero: Angela Davis
Favorite book: "Captain Sir Richard Francis Burton" by Edward Rice
Favorite quote: "Our destiny changes with our thoughts; we shall become what we wish to become, do what we wish to do, when our habitual thoughts correspond with our desires." — Orison Swett Marden
A nurse in psychiatric wards for more than two decades, Catherine M. Solórzano understands mental illness.
Over the years, her patients have included those dealing with the agony and fear of hallucinations, homelessness, panic attacks, phobias, obsessive-compulsive disorder, depression, mania, suicidal thoughts, self harm, loss, despair, abuse and chemical dependency.
"My position as a nurse is to display respect and a non-judgmental approach with regard to education, hope, comfort and empathy that encourages these individuals to attain healthy coping skills in order to deal with their respective circumstances," said Solórzano, who works at Huntington Memorial Hospital in Pasadena as a psychiatric charge nurse, as a psychiatric clinical nursing instructor in Riverside Community College's Registered Nursing Program and as a graduate research assistant at Cal State Fullerton.
"Those who suffer from the debilitating effects of mental illness have a tendency to feel hopeless and helpless," she added. "It may be difficult for them to see or believe that there are positives in their lives. It is through this approach and desire to assist the mentally ill that fuels my own need to connect with humanity, keeps me working in the field of psychiatry and perpetuates my service to such a deserving population."
So, it comes as no surprise that she plans to pursue a doctorate in transformative studies, specializing in diversity and social justice. But first, she is completing her master's degree in nursing and participating in Cal State Fullerton commencement ceremonies Saturday, May 23.
Because of Solórzano's passion and drive, she is one of this year's President's Associates Outstanding Graduate Student Award recipients.
"I have always been fascinated with brain chemistry and psychiatry," said Solórzano, who earned her bachelor's degree in nursing, with cum laude distinction, from Cal State Fullerton in 2008. "I once had a very influential psychology teacher in high school who is responsible for planting the seed. I also have worked with many exceptional psychiatrists and nurses in the field who are just as passionate as I am."
Solórzano, who has maintained a 4.0 grade point average since she enrolled in the master's program, said she will finish the coursework in August.
Meanwhile, she's working with Maryanne Garon, associate professor of nursing, on a qualitative study that focuses on whether staff nurses and managers feel comfortable, willing and capable of voicing their opinions, concerns, frustrations and ideas, among other things, within their workplace setting.
Other research she's worked on included traveling to Mexico with other graduate students and collaborating with Garon to develop a cultural understanding abstract that was presented at the Sigma Theta Tau Nursing Odyssey Conference in October.
"The abstract detailed how we assisted the Universidad Autónoma de Tlaxcala by comparing our own health care in the U.S. with that of Mexico in order to recognize available resources with regard to developing a health model to deal with the effects of diabetes," Solórzano said.
Garon called Solórzano "intelligent, intellectually curious, a great writer and extremely well-spoken."
"She has demonstrated the ability to take complex ideas and make them understandable," Garon said. "She also is extremely motivated and works tirelessly to submit quality work."
In the fall, Solórzano will begin her doctoral studies at the California Institute of Integral Studies in San Francisco. The institute already has granted her two scholarships.
The doctorate program she chose, Solórzano said, will prepare her to teach and produce scholarly publications. Because the program is mostly online, she and her husband, Luis, will be able to travel to Costa Rica to open and operate a bed and breakfast.
Q: Why do you want to open such a business?
My husband, who was born in Costa Rica, is also a registered nurse and works as a health care consultant. He has a business license and our plan is to obtain certification in order to provide educational courses and adventure tours for nurses who are required to obtain education for their license renewals. Some of our programs will teach Spanish for health care providers and tropical disease and cultural awareness topics.
As I have learned from all of my instructors at Cal State Fullerton, lifelong education is imperative. In addition, it is important to become culturally aware and to provide a meeting place for nurses from all over the world to come and connect with one another. Obtaining certification and providing nurses with continuing education through our bed and breakfast service will not only creatively satisfy my passion as an instructor, but also will allow others to gain valuable health care information.
Q: What is your long-term goal?
I plan to continue traveling extensively throughout the world in order to experience a plethora of different people, cultures and countries. My passion lies within the realm of humanitarian work and activism here in the United States as well as abroad. Therefore, it is my hope to split my time between the United States and internationally in order to continue working as a nurse advocate, humanitarian, instructor and researcher. I also plan to obtain a position with the World Health Organization and work in some capacity with international affairs. I also see myself publishing.
Q: What is it about nursing that appeals to you?
Because I have such a strong desire to advocate for those who are unable to advocate for themselves or who experience social injustice, I feel this is why nursing initially called to me. For the past 21 years, I have witnessed many individuals suffering from the debilitating effects of mental illness and social stigma. Continuing to work with this patient population provides me with a desire to continue caring for them and instills a yearning to encourage them to speak up for themselves. I will continue to teach all patients to adopt a proactive approach with their own health care.
Q: What advice do you have for young nurses or those considering a nursing career?
Seek out a mentor who models everything you hope to become as a future nurse. Look for someone who epitomizes professionalism and leadership, upholds the profession of nursing with integrity and who challenges you to attain a higher education and guides you throughout the journey.
Photos are available online at www.fullerton.edu/newsphotos.