Kind Hearts, Working Hands
Staff Member Creates Caps for Cancer Patients
June 23, 2009
By Pamela McLaren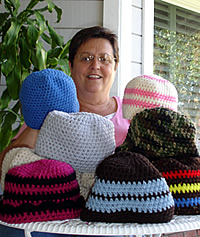 Debra Bucholtz
In 2007, Debra Bucholtz, assistant to Harry Norman, dean of University Extended Education, had a neighbor who got involved in crocheting caps for breast cancer patients.
"She commented that she couldn't keep up with the demand for them," said Bucholtz. "Although it had been about 25 years since I had done any crocheting, I offered to try to help her."
Another friend helped Bucholz refresh her skills and the idea of crocheted caps for cancer patients stuck with not only Bucholtz but her entire family. Today, she is at the center of about 20 family members and friends who have knit or crocheted more than 1,600 hats — including nearly 700 made by Bucholtz herself.
All three of her daughters contribute. As word spread, contributions have come from senior citizens at the Placentia Senior Center to CSUF student Crystal McDaniel, who has provided more than 150 caps. Bucholz's husband, Randy, is the official cap tester — making sure the caps are not too tight and hold their shape.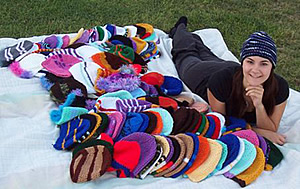 Crystal McDaniel with some of the caps she's made for cancer patients.
McDaniel, a junior majoring in business administration-marketing, said she became involved through her friendship with one of Bucholtz's daughters.
"I was a Girl Scout Gold Award recipient and part of what I did to achieve the award was to crochet 'binkies' for children in hospitals," she explained. The Gold Award is the highest Award a girl scout between the ages of 14 and 18 may earn and recognizes a scout's achievements in service, leadership, organization and networking. "So when I was done with that, I offered to help make caps.
"Cancer is deep in my family," said McDaniel, who added that she can complete a cap in about an hour and often does it while watching TV. "Both my parents are cancer survivors and we lost my grandmother to cancer last year. I believe that by making these caps, we let cancer sufferers know that someone cares. It makes me feel like I'm doing my part."
"We have found that all types of cancer patients need caps and caps in any size, color or style are appreciated," said Bucholtz. "We've also found that one large chemo center can distribute up to 50 caps in about two days — so they can keep us very busy!"
To meet the demand, Bucholtz has sought yarn donations through Craigslist. She also encourages others to help by making caps if they are so inclined. Bucholtz and McDaniel also teach people how to make the caps.
"One lady drove to my house from the Inland Empire with eight boxes and a suitcase filled with yarn," Bucholtz said, still amazed at the generosity. The woman explained that her father had died of cancer and that the donation was the leftover yarn from her late mother's knitting and crocheting.
"We always try to make some hats with red and purple for Red Hat Society ladies, as well as lavender and pink for the young Red Hatters. We've even made some with fur," said Bucholtz, who admits that she's seen beautiful caps made from the wildest mix of colors.
"We don't do it for the credit or recognition," said Bucholtz, who also has volunteered with the Special Olympics. "We have great fun and a great time doing it. And it is so appreciated. What could be better?"
To learn more about Bucholz's efforts or to volunteer caps or yarn, go to http://capcrusaders.com.