Vocal Ensemble Performs in Meng Concert Hall Sunday
Performance Part of Viva Voce Series
April 14, 2009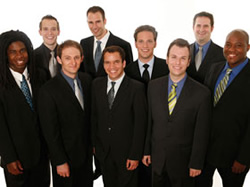 Cantus
Cantus, Minnesota's nine-singer, all-male vocal ensemble, performs at 7 p.m. Sunday, April 19, in Meng Concert Hall of the Joseph Clayes III Performing Arts Center. Cantus, which has been hailed for their extraordinary sound by the Washington Post — tours throughout the Americas and Europe, and has performed at the Oregon Bach Festival, Library of Congress and the Kennedy Center. The ensemble is currently collaborating with vocalist Bobby McFerrin and the Minnesota Orchestra.
The Fullerton concert program features a wide range of music from classical to folk, including such pieces as Eric Witacre's "Lux Aurumque," Edie Hill's "A Sound Like This," Daniel E. Gawthrop's "There is Sweet Music," plus the traditional "Shenanadoah" and "Deep River."
Tickets and further information may be obtained online at www.fullerton/arts/events or from the Performing Arts Center's box office at 657-278-3371.