Keeping Cool and Powered Up
Campus Constructs New System to Generate Its Own Power
December 1, 2009
By Pamela McLaren
When the campus was new, plans were developed for the day when approximately 20,000 students would be listening to professors, delving into library stacks for research materials, and attending theater, music and athletic events. Campus planners anticipated the need to cool a growing campus and installed a gas absorption-powered central plant.
And it worked — for quite a while.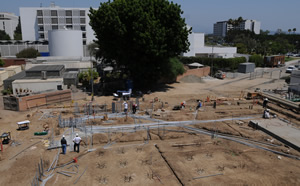 Workmen place pipes and footings at the start of construction for the trigeneration plant at Cal State Fullerton. Photo by Kelly Lacefield
But the system eventually exceeded its designed length of service and no longer served the campus needs. "By 1980, it needed help," said Jim Corbett, assistant director of programs and projects in physical plant. "The campus overhauled the plan and went all-electric — clean and at the time, cost-efficient. But no longer big enough."
A big storage tank was installed to hold water that was chilled during the evening, when electric rates were more favorable. Then the water was used when classes were in session.
The plan worked, but as the campus continued to grow, the need increased and eventually, "we were running coolers night and day and getting to the point we had challenges to keeping the campus cool," said Corbett. "We needed to build for more capacity."
With the number of students on campus having reached 36,000 and budgets in crisis, a new system was needed. Plans were developed in 2006, and major components were ordered last year. Then work began on the new central plant system, which can meet the current and future needs of Cal State Fullerton and do so by saving the campus precious operating funds.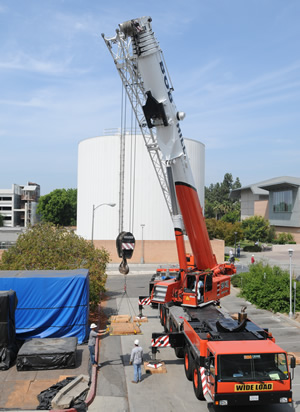 Workmen use heavy-duty cranes to move some of the equipment that makes up the trigeneration plant that is located east of the Nutwood Parking Structure. Photo by Kelly Lacefield
"We wanted to build a system that was effective, flexible enough that we could use various energy sources and had room to grow," Corbett explained. "Our approach became to build a plant that could generate its own power, lessening our dependence on off-campus sources, as well as at the same time, produce heating and cooling for the campus."
The end result? A plant that uses multiple means of generating energy to meet the heating, cooling and electrical needs of the campus.
When completed in 2010, the plant will use natural gas to power a large turbine to generate electricity. The waste heat generated from the turbines then becomes the means to cool water — via two 1,200-ton absorption chillers — that will be used to cool the campus.
"We can generate enough to maintain the campus at baseline electrical use — about 4.5 megawatts," said Corbett. "It's a steady source of power 24/7. We will utilize additional power from Edison during normal operating hours when electrical use is greatest.
"It creates good economics," he stressed. "Flexibility to utilize the energy the best way, depending on time of day and season. At peak loads, everything comes into play."